I don't like my "one word" for 2015, but I'm keeping it anyway.
Let me explain…
I have many friends who have been selecting one word to focus on for each new year as a substitute for new year's resolutions. I've thought about doing it, but was never really motivated to follow through.
Last week, my pastor encouraged us to choose our one word. We even have a word for our church. I decided this is the year that I, too, would choose a word to focus on for the year.
The first word that occurred to me was intentional. I want to be more intentional about what I say and do. Intentional about my spiritual growth. Intentional about being the kind of wife God wants me to be. Intentional about writing and teaching for God's glory. Yes, that was a good word.
But the Lord whispered to my heart that it was also a safe word. I tend to be rather focused anyway, so being more intentional wouldn't be much of a change. Then He gave me a word that made me nervous. The word? Release.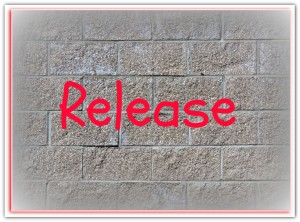 I am intentional. And task-oriented. And I like the feeling of trying to control my circumstances. My previous corporate career in NYC affirmed those traits.
But release? That's a difficult word for me in so many areas. Release my writing career and the sales of my books. Release people and relationships that aren't working out the way I had hoped. Release the desire to control my circumstances. Continue working, serving, and teaching in ministry, but release the results to the Lord.
A week after my pastor challenged us to choose our one word, he spoke about Jesus as Lord in addition to Savior. Again I heard God whisper to my spirit. I AM Lord over you, your circumstances, your relationships, your teaching, your writing…your life! Release it all to Me. It was an affirmation that my one word for 2015, release, will do more to honor Him as Lord than most other words I might choose.
I don't like my word for this year. But I need this word. It's not an easy one, but it is a word that will stretch and grow me…for His glory.
Have you chosen a word for 2015?