A new year, a new word.
In 2015, my "one word" for the year was release—a word I didn't like, but did need. These posts explain my choice and my experience in applying my one word.
The following year, my word was joy…a word that seemed to be the opposite of release, yet I quickly learned it complemented and built on the lessons of the previous year. You can check out the reason for my choice as well as my success and failure in applying it.
You might imagine I was eager to learn my word for 2017. Or after reading my previous successes and failures, perhaps not so eager. My one word for 2017 came to me in early December. Once again, it was not a word on my short list of considerations. But hope kept coming to mind. And it confused me.
I could see reasons for the words release and joy, as I blogged earlier. But would I really need to focus on hope as a daily activity? Hmmm, since I teach and write, perhaps I was to focus on hope as a way to encourage others. To be a vessel of hope to those who may be struggling under waves of despair.
I didn't have to wait long to learn why hope is not only my word for 2017, it's one my husband is focusing on, as well.
On January 4, Russ entered the hospital with sharp abdominal pain. He thought it might be kidney stones. Instead, tests confirmed the presence of a pancreatic tumor.
While we waited in the ER for the admission paperwork to be completed, a nurse placed a glass stone in my hand. "Here," he said. "Hold on to this." I looked down to see the word hope etched across the glass.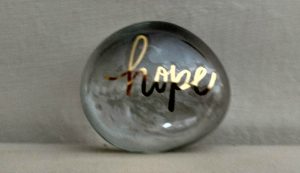 Within 2 days, Russ had 2 surgeries. One to stop internal bleeding and the other to remove a cancerous tumor, his spleen, and parts of his pancreas and stomach.
If ever a diagnosis calls for hope, it's cancer. These past several weeks have been jam-packed with medical tests and doctor appointments as he recovers from the surgery and makes decisions regarding further treatment. Discussions about radiation and chemotherapy are now a normal part of our conversations.
Through it all, we trust our Savior and cling to Him.
Yes, hope is precisely what I need this year. And, although I didn't realize it then, the Lord began preparing me for 2017 in December 2016.
What is your "one word" for 2017?