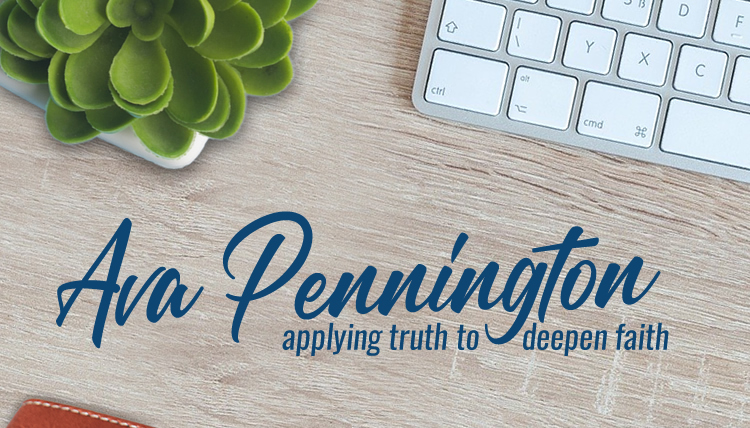 Coaching


Are you writing a nonfiction book or a devotional?
Perhaps you've published your book and need to figure out next steps.
Or maybe you want to develop a speaking ministry.
Would you like help in moving forward? Ava Pennington's coaching specializes in nonfiction writing and speaking. As a certified coach for writers and speakers, Ava will come alongside you and offer encouragement, support, and accountability to help you identify and achieve your goals.
Ava teaches classes at writers' conferences such as the Florida Christian Writers Conference, The Colorado Christian Writers Conference, the Greater Philadelphia Christian Writers Conference, and the Florida Writers Association state conference.
She is also a Mentor with Word Weavers International and a Bible teacher with Bible Study Fellowship (BSF). And she is a sought-after speaker for both faith-based and general market events.
Ava is equipped with an MBA from St. John's University and training from Moody Bible Institute. She understands both the business and ministry aspects of the Christian publishing industry.
Work with Ava for clarity and encouragement to help you achieve your writing and speaking goals.
Contact her to schedule your complimentary 30-minute Do We Fit? consultation.
*And if you're interested in learning more about how to write a book, consider online classes (affiliate link) offered by the Advanced Writers & Speakers Association (AWSA). The writing course, Yes You Can Write a Book, is being offered at $399, but with the coupon code INTRO-OFFER, the price of the course is $299. Enter the coupon code on the checkout page by clicking on the coupon code button before checkout.
Testimonials:
"A malaise of confusion, discouragement, and futility hovered over me like a thundercloud until a fresh wind from Ava caused the sun's rays to break through. She helped me refine and articulate my ministry goals, and helped me understand how my media presence didn't reflect my God-given calling. A good coach commands change for players; a great coach helps players understand why change is necessary. When I reflect on our appointment years from now, I believe I'll see it as one of the crucial change points of my life."
Rhonda Dragomir, Author & Speaker
"Ava's coaching saved me from making many rookie marketing mistakes and helped me achieve my goal of a successful book launch in October 2020. Our sessions always opened in prayer, involved homework, and were guided by reciprocal questions framing what I needed to learn. The coaching sessions were practical and delivered on everything Ava offers with encouragement, support, and accountability."
Angela Van Etten, Indie Author
Pass Me Your Shoes: A Couple with Dwarfism Navigates Life's Detours with Love and Faith