She did it again.
Last summer, I blogged about a friend whose prayer request resonated with me. She wanted to use her summer break to "Love Deeply, Care Openly, Share Boldly"—a request that became my own that summer, too.
Her request this year also touched me. She asked for prayer to organize a Bible study this summer to "bring joy, change lives, and spread hope."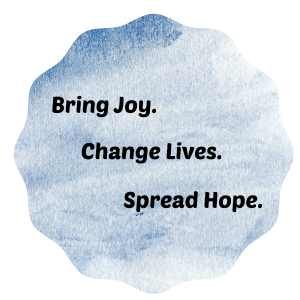 Her request made me think. My goals this summer were to prepare for the study I'll teach in September and to complete a writing project or two. And of course, to support my hubby as he completes his chemotherapy.
Of those three goals, only one of them is people-oriented.
It's so much easier for me to think and plan in terms of projects. The boundaries of my comfort zone are lined with to-do lists. And I receive an excessive amount of satisfaction in crossing off every item by the end of the day.
Today I've revised my summer goals…thanks to my friend's prayer request:
Bring joy:
Joy was my "one word" for 2016. I confess, joy hasn't been something I've been intentional about focusing on the past few months. My new word for 2017, hope, has been the target of my all-consuming focus. Hope that that my husband's treatments will be effective. Hope that words like cancer, chemotherapy, and radiation won't follow us into 2018.
But I can't bring joy if I'm not experiencing joy. And if I truly believe my source of joy is my relationship with the Lord Jesus Christ, then circumstances—even cancer—will not be able to steal that joy. So I'm thankful for this reminder to be more intentional about finding joy in each moment. I don't want to take those moments for granted, for none of us know how many moments we have.
Change lives:
I don't have the power to change someone else's life. But I know the One who does. Because I belong to Him, I can share what I know about who Jesus Christ is. And I can live in the reality of that relationship. As others see His power changing me, my prayer is that they will see He has the power to change their life, too.
Spread hope:
Hope…my "one word" for 2017. I've written about my need for hope in this post.
But now I need to look beyond myself and my family and spread that hope. Since I have hope—something everyone needs—it's time to communicate it in both words and deeds. Hope is contagious and I want to be a carrier who infects everyone around her!
So those are my new summer goals, starting today!
September will roll around before we know it. What are your summer goals?