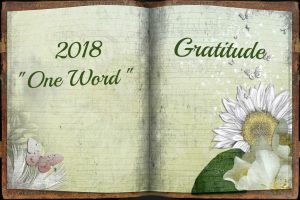 By most people's standards, I picked the wrong word for 2018.
For several years now, instead of making new year's resolutions, I've practiced selecting one word to focus on each year. Actually, it's not so much that I select the word, it's more that it's the word I believe God gives me.
As I posted this past January, my word for 2018 is gratitude.
My husband was diagnosed with pancreatic cancer at the beginning of 2017, and after chemotherapy, radiation, and more chemo, was declared to be in remission by October. When I selected gratitude as my word, we had not yet learned of the remission. Still, as we waited for my husband's PET scan results, I knew the choice I had to make. To choose gratitude regardless of whether the cancer was still present. To hold on to thankfulness, no matter what.
Sadly, the cancer returned with a vengeance early this year. It metastasized, yielding a terminal prognosis. We are walking that journey today.
If gratitude is based solely on pleasant experiences, then I did, indeed, select the wrong word for 2018.
But despite the hurricane-force winds ripping through my circumstances, one thing will never change. Because of my relationship with Jesus Christ, I will always belong to my heavenly Father. And I have the comfort of knowing my husband has the same assurance.
We've been given the gift of eternal life. The incomparable gift of eternal life. A gift that will always eclipse our physical circumstances. It overshadows the worst diagnosis and outlasts the saddest prognosis. And it speaks hope into our brokenness.
So yes, gratitude is still my word for 2018. It's still the right word for 2018. I'm grateful for the forty years of life my husband and I have shared together. Despite the terminal prognosis, I'm grateful for the remaining time—however limited—we do have, whether months, weeks or days. And I'm grateful for the presence of the Holy Spirit, who is upholding and strengthening us during circumstances that would otherwise be unbearable.
Surely that is reason enough to always be grateful. Grateful for what I have, regardless of how long it will last. Grateful for who I have, regardless of the soon-to-be fulfilled prognosis. And grateful for who I—and we—belong to, because He is holding us close and wrapping us in His love.
Did you choose "one word" for 2018?
Share your update…