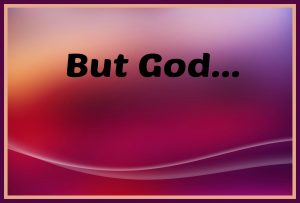 One of my favorite phrases in the Bible is "but God."
The phrase is peppered throughout Scripture. And it makes my heart smile every time I come across one of those verses.
They bring a vertical perspective to my horizontal circumstances.
They remind me that my circumstances are not permanent.
And they proclaim that when my situation appears hopeless, the God of hope is still on His throne.
Check out some of my favorites:
You meant evil against me, but God meant it for good…
But God will ransom my soul from the power of Sheol, for he will receive me.
My flesh and my heart may fail, but God is the strength of my heart and my portion forever.
But God shows his love for us in that while we were still sinners, Christ died for us.
But God chose what is foolish in the world to shame the wise.
Life is difficult, but God is real.
Problems multiply, but God is the original problem solver.
People will disappoint, but God is faithful.
Satan attacks, but God is our defender.
What other "But God" statements can you add to this list?