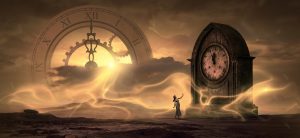 We're careful about how we spend our money. And we're careful about exhausting our energy reserves. We're also careful about how we spend our time…or are we?
When I worked in the corporate world, I taught training sessions on time management. The components of time management in the business world are well known. Prioritizing, planning, and staying organized are all habits of an efficient person. And all for the goal of saving time.
But what are we saving it for? What if time isn't a thing to be managed? What if the purpose of time is something else?
All too often, I've fallen into the trap of viewing life as a rat race, filled with things I have to do and crowding out the things I want to do. It's so easy to forget that we get to do life together. It's a privilege. And a joy.
Yes, we have responsibilities and jobs. Obligations and chores. But what if those duties are simply components of our life that provide the resources and abilities to do the things we want? To be with the people we want to be with?
Jobs and careers consume us. So we come home exhausted, only to face a never-ending to-do list. Worse yet, studies have shown that we spend less than 2 minutes a day in meaningful communication with the ones we love. I don't know about you, but most days I feel as if I'm chasing the clock. Constantly running out of time.
It's so easy to lose balance. To forget that work isn't meant to consume us. To forget how important the people in our life are to us.
Until they're not there anymore.
Time is a limited resource. Once it's spent, it's gone. Never to be reused. Never to be recycled. And never to be recovered.
Enjoy the time you have with the people you love. Relish the moments. Create memories to savor. Memories that will keep those people emotionally close even when they're no longer physically close.
So pay attention to the prompting of the Holy Spirit when He nudges you to make that phone call. Meet that person for coffee or lunch. Take time to listen—really listen—to your spouse or your children instead of turning up the volume on the television.
Gratitude is my "one word" for this year. Be grateful for what you have and who you have. Prioritize the important over the urgent. People over phones. Face-to-face interactions over Facebook posts.
People aren't perfect. Life isn't perfect. And time is limited. The people in your life won't always be there. Be grateful for the time you have with them…while you still have them.