Spiritual Junk Food
Not sure why, but I've been bingeing on junk food for the past several weeks. Which is a bit ironic, considering March is National Nutrition Month.
So in honor of this month, here's a devotion excerpted from Reflections on the Names of God: 180 Devotions to Know God More Fully. This is one of the devotional entries for Jesus's name, "Bread of Life."
Junk Food
How sweet are your words to my taste; they are sweeter than honey.
Psalm 119:103 NLT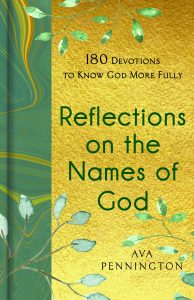 We live in a junk-food world. All too regularly, we satisfy our physical hunger with convenient or tasty foods that provide little nutrition.
Just as we can fill our bodies with unhealthy foods, we can also fill our souls with spiritual junk food. Spending time and energy on activities that do not have eternal value dulls our spiritual appetite for God's Word.
The psalmist not only hungered for God's words, he found their taste sweeter than honey. Can we say the same? Some of us read the Bible out of obligation; we do it because we know it is good for us, but it doesn't "taste" good. From there, we might progress to reading the Bible because it is spiritually satisfying. Better still is when we spend time in the Word of God because it is a delight—the equivalent of eating the most delectable dessert.
The world works tirelessly to draw us away from feeding on the Bread of Life. Don't be distracted by spiritual junk food. 
Bread of Life, forgive me for filling up on things that do not satisfy. Help me feed on the spiritual nourishment that comes through Your Word and Your Holy Spirit.
What spiritual junk food has been diminishing your appetite for God and His Word?