Bluegrass and Jesus
I attended my first bluegrass concert last week . . . and it was not what I expected.
The music was not a surprise. I've heard and enjoyed bluegrass before, including well-known songs such as "Foggy Mountain Breakdown" and "The Devil Went Down to Georgia."
And I've attended concerts before, too. Concerts featuring a wide variety of music. British invasion bands like The Beatles and Herman's Hermits. Folk music groups such as Peter, Paul, & Mary. Christian musicians such as Amy Grant, Chris Tomlin, and Mercy Me.
Yes, that list includes both "secular" and gospel music. And for each concert I attended, I knew what to expect. Each performance fit neatly into one of those two categories.
Until now.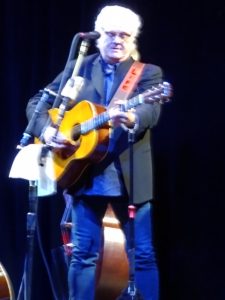 Last week, a friend invited me to a Ricky Skaggs concert with bonus front-row seats. I went, anticipating a country music concert. But for the first time in my concert-going experience, the wall between secular and Christian came crashing down, a crash rivaling the fall of the walls of Jericho.
Skaggs played his mandolin as if he'd been born playing it. Other talented musicians picked banjos, plucked guitar strings, and played the fiddle, all with speed and agility that sets them apart as giants in their field.
But these same musical giants spent a significant portion of the concert weaving in songs and testimonies of God's grace extended through Jesus Christ. Testimonies from the band members and from Ricky Skaggs, himself. In fact, taped to his mandolin and guitar straps you could see the printed word, LIFE, in bright red letters for all the world to see. The sharing was organic. Natural. Not forced. Not preachy. Just matter-of-fact.
So why do we fall for the lie that we have to separate the secular and Christian aspects of our life? Here, in a concert, the Christian values and beliefs of the performers were seamlessly integrated with their music. Moving from secular to Christian and back to secular as naturally as a duck takes to water.
I want to take a lesson from this concert. A lesson that goes far beyond the world of music. I want to consistently live in a way that my faith—my relationship with Christ—is never separate from the rest of my life. Not forced. Not compartmentalized. Regardless of where I am or who I am with. Woven so seamlessly that it's as natural as breathing. In my family. My neighborhood. As a community volunteer. And of course, at church and Bible study class.
I thought I was already living this way. But there's always room for improvement. The world is changing. Increasingly hostile toward Christ and His followers. If I'm not intentional about identifying with Christ in every area of life now, I won't be able to do it later.
Let the walls come a-tumblin' down!