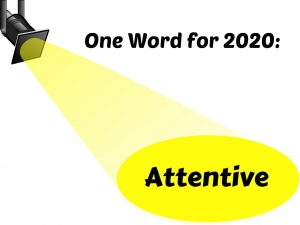 Do you make new year's resolutions? I used to, but they never lasted more than a few months at the most. A few years ago, I began adopting one word to focus on throughout the year as a substitute for resolutions. One word that would apply to multiple areas of my life. Each year, my "one word" for the new year became abundantly clear during the month of December.
This year my one-word for 2020 did not become clear until the end of December. For most of the month, it seemed as if the Lord was pointing me to two words: listen and focus. But neither stood out as the word. By December 28, I wondered if I was supposed to have a word for 2020. Perhaps I needed to take a year off.
Then it hit me with such clarity that I knew. I knew this was the word. I knew it because it took the two words I thought I was being led to and combined them.
Attentive.
To be attentive is to do more than just hear. It involves listening with focus—my two original words. To listen without mentally preparing a response. It involves processing with both my mind and my heart. To pay attention to not just spoken words but also to body language. And to the effects of the circumstances. Being attentive requires being in sync with the other person. And I need to become much better at doing these things in all the areas of my life.
A friend recently forwarded a meme to me. It was a picture of two ears placed side by side, forming the shape of a heart. The message noted the word "ear" is at the center of the word heart. And it said the way to someone's heart is to listen to them.
Attentive to God
I want to connect with the heart of God even more intimately in 2020. That means learning to be more attentive to the whispers and prompts of His Holy Spirit. It also means being attentive to His Word, for the Bible is my instruction book for life and for a relationship with Him.

Attentive to People
This is an area I especially need to develop. To be attentive to the needs and desires of others. To weep with those who weep and rejoice with those who rejoice. And to listen and respond with time and kindness in addition to material resources.
My need in this area was highlighted a few days ago with a friend. We shared our "one word" with each other over lunch. After we arrived home, she moved to get in her car while I walked to the mailbox, not realizing she had asked a question. Sigh. An epic fail at being attentive before the new year had even begun!

Attentive to Myself
This does not mean I intend to cultivate self-centeredness. It does mean paying attention to setting healthy boundaries. To rest when I need it. And in this season of loss that's still fresh, to give myself permission to grieve as those moments continue to come and go.
Attentive. It has a somber ring, doesn't it? I can almost hear my school teachers admonishing me, "Pay attention, Ava!" Yet when I shared this word with some friends, one person commented that I can be attentive…or I can be attentive with anticipation. I love how anticipation adds a note of joy to my one word.
Anticipatory attentiveness. Eagerly watching and listening for the Holy Spirit's promptings. Reading God's Word with anticipation for the treasures I'll find. Waking each morning to view the new day with anticipation for the adventures it will bring.
Being attentive with anticipation for how the Lord is working in my life, even if I can't always see it. Viewing unexpected events, not as interruptions to my agenda, but as activities woven into His plans for me. And anticipating the deepening of friendships.
This year I will be aware of my need to be attentive. And I purpose to do it with anticipation!
Do you adopt "one word" in place of resolutions? Share it in the comments!