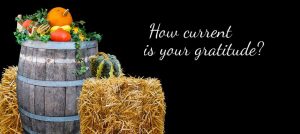 Thankfulness is good for the soul. And it's especially fashionable to be thankful during the month of November.
But how far back do you have to go to find something to thank God for?
Do you find yourself casting back on old memories? Searching experiences from your childhood? From years ago? Or months or even weeks ago?
I love the practice some families have of filling a thanksgiving jar throughout the year. Family members add slips to the jar and then take turns reading the slips on Thanksgiving Day. It's a wonderful way to rehearse God's faithfulness and nurture thankfulness in both children and adults.
Although family members read slips written up to a year earlier, each recollection was current when it was written.
But what if we go days, weeks, or even months without recognizing something to be thankful for? What does this say about us?
It proclaims that we can't see beyond our immediate physical circumstances. Negative events limit and shape our perspective. For example, a flat tire can be a disaster…or it can be the impetus for thankfulness I wasn't injured, I had a spare tire in the trunk, or even thankfulness I have a car at all!
Additionally, in the absence of a current spirit of gratitude, I will become a bitter, resentful person who cultivates an overarching sense of entitlement. I'll focus on my rights, my benefits, my priorities. I'll fall into the trap of thinking anything good that happens to me is dependent solely on my own efforts. And if my rights, benefits, and priorities are shortchanged in any way, I'll make sure the world hears about it.
Finally, the absence of a current spirit of thankfulness proclaims I am unaware of God's active presence in my life moment by moment and day by day. Nurturing an awareness of God's presence helps me be alert to the ways He is working in each day, providing me multiple reasons to be grateful.
If I have to think back weeks or months for something to thank God for, then something is terribly wrong. I want to be diligent to practice His presence now for a heightened awareness of His hand at work every day!
As the pages of our calendars and planners turn, the thankful themes of November will give way to the excitement and animation of December Christmas celebrations. Will you and I purpose to bring a current spirit of thanksgiving with us into the new month, the new year, and each new day of our life?
Do you have to cast back on old memories for reminders of how God has worked in your life?
How will you develop a current spirit of thanksgiving that will last far beyond the month of November?