In honor of Thanksgiving, I considered writing a post about all the things for which I'm thankful. Then I considered writing a post about all the things for which others should be thankful.
But I decided to get ultra-personal.
Those who know me personally know my husband graduated to heaven this past summer. What you may not know is that his last 2 years of life were spent radically different from the decades that preceded them…both physically and spiritually.
This is a bittersweet holiday for me. My first without Russ. Yet I'm incredibly thankful to know he is now with his Savior.
How can I have such assurance? The Bible tells us of heaven. Still, it's one thing to read about heaven, but it's another to know it's true in the face of a terminal illness.
Here's a link to the testimony Russ shared last May – a testimony shared with the knowledge that his death was a month or two away.
Listen for yourself and then you decide whether my assurance is justified.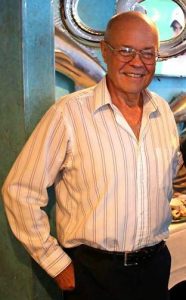 After you hear it, you'll know what I know…heaven is real and as the Bible promises, we can, indeed, have the assurance of that destination if we know Jesus Christ as Lord and Savior.
And there's nothing better to be thankful for than that.