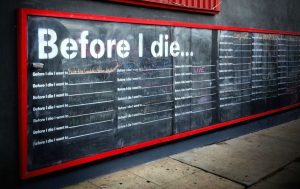 Do you have a "bucket list"?
I wasn't familiar with the phrase until the release of the movie by the same name in 2007, starring Jack Nicholson and Morgan Freeman. IMDb describes The Bucket List as "Two terminally ill men escape from a cancer ward and head off on a road trip with a wish list of to-dos before they die."
For the past 10 years, I've joked about a bucket list. Wouldn't it be fun to…. Someday before I die I'd like to…. It became a fun mental distraction to continue adding items.
Until last year. Until my husband was diagnosed with pancreatic cancer. All of a sudden, bucket lists were no longer limited to a mental exercise.
But as we discussed an extremely limited future, we realized something unexpected.
He did not have a bucket list. No wish-list of adventures. No desire to travel to exotic locales. Not even a list of local activities.
He didn't have a list because he is content with the life we have together. Satisfied to enjoy the small, normal pleasures of each new day.
His one desire that might qualify to be called a bucket list item has been a desire to share his faith in the face of a terminal prognosis. And he's done that, multiple times.
All of this made me wonder about my own life. I now realize I don't have a bucket list either, at least not in the traditional sense of the word.
Instead, I've come to appreciate that my list is comprised of one item.
Russ is my bucket list.
It's been a 40-year journey. A 40-year joining of 2 lives. The one thing I want to do—and do well—is to be there for my husband. To care for him the best I can, however I can. To hold his hand as he walks to his finish line, and hear him say, like the apostle Paul, "I have fought the good fight, I have finished the race, I have kept the faith" (II Timothy 4:7 NIV).
My bucket list is short, but deep. When Russ finishes his journey, my list will be fulfilled. It's a bittersweet time, but as a friend once advised me, it's a holy time, too. And I intend to cherish each holy moment.
What's on your bucket list?