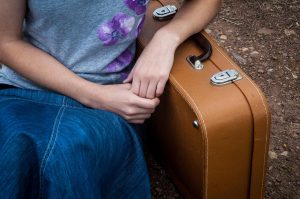 With our 40th wedding anniversary approaching in a few days, I thought you might enjoy this personal account from the day Russ and I were married…
~~~
"There's no room!" I squeezed back the tears, but my husband of just a few hours stood resolute.
Romantic contemplations of "happily ever after" dissolved as I stared at the four open suitcases. How could we live happily ever after when we couldn't even agree on how to pack for our honeymoon?
The wedding reception had passed in a blur of activity. We said our good-byes and prepared to leave for the romantic island of Bermuda. After a brief stop for our luggage, we would take a taxi to a hotel near the airport in preparation for an early morning flight. My life of wedded bliss had begun.
Then it happened. Our first argument as a married couple—married for less than eight hours.
"We're not lugging five suitcases on a one-week trip." Russ pointed to his own bag. "I fit everything into one suitcase. Why do you need four?"
I needed four because I was young (20 years old), had zero travel experience with no clue how to pack, and because I was a woman going on her honeymoon!
My luggage included three suitcases and a matching makeup case with a mirror inside the cover. (Do they even make those anymore?) Each case contained everything needed for our dreamy get-away, each article of clothing gently folded and packed to ensure it would emerge in pristine condition. And no, none of the suitcases had wheels.
"The makeup case doesn't count. And I need everything in the other three suitcases."
"Combine them. We can each carry two bags." Russ looked at his watch. "And we need to hurry—we've got less than twenty minutes before the taxi arrives."
I sat on the floor surrounded by the suitcases and looked at him. Instead of Prince Charming, I saw an ogre of fairy tale proportions. I had carefully chosen each garment and painstakingly nestled it in its place for our journey. Now he expected me to toss everything in one or two suitcases, and who cared if I looked like a wrinkled mess during the most important week of my life?
I began the arduous task of consolidating my luggage. Piece by piece, refolding, rerolling, and repacking. To my naïve surprise, I had more than enough space in the two remaining suitcases for everything I needed. And it turned out I even had enough room to pack souvenirs for the return trip.
Crisis averted. But it wasn't really a crisis. Life would throw many events in our path much more serious than that. Still, I learned something that day (besides the fact that I was an absolutely clueless traveler).
Someone once said, "men are from Mars, women are from Venus." And I love the book by Bill and Pam Farrel, Men are Like Waffles, Women are Like Spaghetti. We're most definitely different!
My version? Men are "one suitcase" people, and women are "two suitcase" people. Our married life became much easier when we accepted our differences. So, 40 years later, I smile at hubby's comments about the weight of my purse. Because when he asks, I'll have a nail clipper, tissue, aspirin, his sunglasses, or any one of numerous other items he couldn't fit in his pockets.
In the past 40 years, each day has opened to a new journey. Our life has taken a multitude of twists and turns, mostly good, and occasionally not-so-good. Still, regardless of our circumstances, my suitcases have always been packed as I travel this journey…the journey of a lifetime.

What differences have you noticed between you and your spouse?