An advertisement for a movie once touted a portion of a review that said, "In a class by itself!" But when I read the full review, the phrase – in context – was not in the least bit flattering. I'm sure the author wasn't pleased to find his quote taken out of context.
Ever had something you said taken out of context? It happened to me several years ago when I was interviewed for a newspaper article. In his search for a soundbite, the reporter misquoted me by taking a phrase out of context. Unhappy doesn't begin to describe how I felt!
Movie reviews and interviews aren't the only places this happens. People often do it with the Bible. Last week, I highlighted three often misunderstood Bible verses—misunderstood because they are frequently quoted out of context.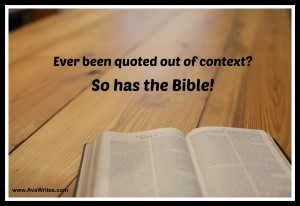 Here are three more examples (all Scripture quotes are from the NASB):
1. Matthew 7:1 – "Do not judge so that you will not be judged."
Matthew 7:1 is probably the most often quoted Bible verse…by non-believers! It's also used by Christians to defend themselves against other Christians who they consider to be legalistic.
This is a sensitive subject, but the bottom line is that the verse doesn't say what most people think it does. In addition to examining the immediate context, we need to ask ourselves whether our interpretation is consistent with the whole body of Scripture. The Bible doesn't contradict itself. If our interpretation contradicts other passages, that's a good indication that we got it wrong.
In the case of Matthew 7:1, we don't have to travel far. In the same chapter of Matthew's gospel, we read:
Matthew 7:6 – "Do not give what is holy to dogs, and do not throw your pearls before swine, or they will trample them under their feet, and turn and tear you to pieces."

Matthew 7:15-16 – "Beware of the false prophets, who come to you in sheep's clothing, but inwardly are ravenous wolves. You will know them by their fruits."
Other verses for us to consider are:
Luke 17:3 – "Be on your guard! If your brother sins, rebuke him; and if he repents, forgive him."

John 7:24 – "Do not judge according to appearance, but judge with righteous judgment."
To satisfy all these other verses, it's clear the exercise of some sort of judgment is required.
But do these other verses contradict Matthew 7:1? Not at all. Matthew 7:1 refers to our heart. We are not to approach others with a judgmental, condemning spirit. Rather, we use discernment to make judgments that will keep us from sin entanglements with unbelievers. And we make judgments that seek the restoration of other Christians. The goal of Christian judgment is always restoration, not condemnation.
2. Philippians 4:13 (NAS) – "I can do all things through Him who strengthens me."
I love this verse for the encouragement it provides. Problem is, many take it to mean that we can do anything because of Jesus. While Christians do have the indwelling presence of the Holy Spirit because we belong to Jesus Christ, the apostle Paul was not referring to superhuman feats of strength when he wrote these words.
A quick review of the verses directly before and after verse 13 reveals Paul is talking about contentment, especially in suffering. He had learned to be content "in both abundance and suffering need" (verse 12).
How many of us are willing to quote this verse in the face of suffering and affliction? That's the context!
3. I Peter 2:24 (NAS) – "for by His wounds you were healed."
One of the names God revealed for Himself in the Bible is Yahweh Rapha, The Lord our Healer. Still, if we search for the first place in Scripture where this name appears, we have to go back to Exodus 15:26 –
"If you will give earnest heed to the voice of the Lord your God, and do what is right in His sight, and give ear to His commandments, and keep all His statutes, I will put none of the diseases on you which I have put on the Egyptians; for I, the Lord, am your healer."
God's priority for His people was the healing of their relationship with Him. If they obeyed Him, they would not suffer the diseases He gave the Egyptians—a nation in rebellion against Him.
Coming back to the apostle Peter's words, the context for healing is once again prioritized in a restored relationship with the Lord. The full verse reads, "and He Himself bore our sins in His body on the cross, so that we might die to sin and live to righteousness; for by His wounds you were healed." The next verse, verse 25, continues this message: "For you were continually straying like sheep, but now you have returned to the Shepherd and Guardian of your souls."
Does God still heal us physically as well as spiritually? Of course, God can do whatever He wants whenever He wants, including physical healing. In the face of illness, we do pray for physical healing. But even as we do so, the Bible makes it clear that His priority for us is always a right relationship with Him.
What Bible verses or passages have you seen taken out of context?