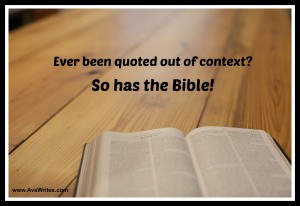 I love finding Bible verses that apply to my circumstances. I love it when others find verses to encourage them in their specific situations, too.
But what about when those verses are taken out of context? In Part 1 and Part 2 of these blog posts, I reviewed 6 verses often taken out of context.
Here are 3 additional often misunderstood Bible verses to consider:
1.   I Corinthians 10:13 (ESV): "No temptation has overtaken you that is not common to man. God is faithful, and he will not let you be tempted beyond your ability, but with the temptation he will also provide the way of escape, that you may be able to endure it."
Ever been overwhelmed by your circumstances? Perhaps a well-meaning friend tried to encourage you by saying, "God will never give you more than you can handle"? It sounds biblical, but it's not.
We may not like it, but God often gives us much more than we can handle …alone. Still, it's never too much for us to handle in, with, and through Him.
First Corinthians 10:13 has often been applied to the general circumstances of daily life. And while it may indeed apply to other areas, the primary subject is temptation. Specifically, we're not to handle temptation, we're to seek the way out provided by God.
But doesn't James 4:7 tell us to "resist the devil and he will flee"? Yes, however the complete verse says:
"Submit yourselves therefore to God. Resist the devil, and he will flee from you" (ESV). How do we resist the devil? Not be handling him, but by submitting to God—surrendering our agenda, weaknesses, and rights to Him.

2.   Luke 6:38 (ESV): "Give, and it will be given to you. Good measure, pressed down, shaken together, running over, will be put into your lap. For with the measure you use it will be measured back to you."
The law of sowing and reaping is found throughout the Bible, in both the Old and New Testaments. But this is another verse that is often taken out of context. We often see this verse applied to financial giving and gain.
The preceding verses reveal that Jesus is speaking of the way we treat our enemies (vs. 27-30, 35), the way we treat others (verses 31-34), and the giving of mercy and forgiveness (v. 36-37). The overriding principle is that of giving others mercy and forgiveness, not money!
3.   Mark 11:24 (ESV): "Therefore I tell you, whatever you ask in prayer, believe that you have received it, and it will be yours."
Some view God as a cosmic Santa Claus or a Genie in a magic lamp, ready to grant our every wish and request, just for the asking.
Mark 11:24 seems to support this perspective. So does Matthew 7:7:
"Ask, and it will be given to you; seek, and you will find; knock, and it will be opened to you" (ESV).
Is it really that easy? Just ask and receive? Experience tells us life doesn't consistently work this way. So is the verse false or are we misinterpreting it?
The best way to interpret the Bible is to let the Bible interpret itself. We examine related verses to determine a consistent meaning across all verses, for the Bible does not contradict itself.
To interpret the above verses, let's look at these:
John 15:7 ESV – "If you abide in me, and my words abide in you, ask whatever you wish, and it will be done for you."
John 15:16 ESV – "You did not choose me, but I chose you and appointed you that you should go and bear fruit and that your fruit should abide, so that whatever you ask the Father in my name, he may give it to you."
Both of these verses provide a contingency for the promise: "If you "abide…" and "bear fruit…"
If I'm "abiding" in Jesus, then I will be content however He chooses to answer my prayers. If I'm seeking His will, glorifying Him regardless of my circumstances then my life will indeed bear fruit—and isn't that the best answer to prayer?
God is not a genie in a bottle, but He is a rewarder of those who seek Him…whether we see those rewards in this life or for all eternity (Hebrews 11:6).
What Bible verses or passages have you seen taken out of context?