It's over. Six years of upstairs and downstairs entanglements and drama. Six years of pomp and circumstance. Six years of loyalties and betrayals. Six years of secrets and celebrations.
But Downton Abbey was more than a period drama. It was more than exquisite fashions and castles and history.
Downton Abbey highlighted the importance of leaving a legacy.
The legacy of an Earl who meant well, but almost lost the family fortune…twice. The legacy passed on to young master George, who would inherit a way of life that was quickly fading. The legacy of two feuding sisters who found a way to coexist because, as Lady Edith said, "In the end, you're my sister and one day, only we will remember Sybil…or Mama or Papa or Matthew or Michael or Granny or Carson or any of the others who have peopled our youth…until, at last, our shared memories will mean more than our mutual dislike."
I believe Downton Abbey struck a chord with its audience because, although it portrayed an account of fictional people from another era, those people wondered about their legacy. What would they be leaving the next generation…and each succeeding generation? As we watched, they coped with a changing world…which changed them in the process. If they couldn't pass on their way of life, what did they have to pass on?
As Robert Crawley, the Earl of Grantham noted, "You see a million bricks that may crumble…I see my life's work."
What about you and me? What is the legacy we are leaving for the next generation? Regardless of whether you have children or grandchildren, you have a circle of influence. Directly or indirectly, you and I will leave a legacy. But what are we leaving?
Material resources?
A lifestyle?
Culture?
Technology?
Problem is, all of these things are temporary. What are we leaving the next generation that holds eternal value?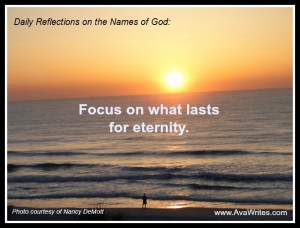 Psalm 78 is a wonderful passage that encourages us to think about the type of legacy we will leave. Consider these verses from the NIV translation:
v. 4 – We will not hide them from their descendants; we will tell the next generation the praiseworthy deeds of the LORD, his power, and the wonders he has done.

v. 6,7 – so the next generation would know them, even the children yet to be born,

and they in turn would tell their children. Then they would put their trust in God

and would not forget his deeds but would keep his commands.
Consider your legacy…and be sure it has eternal value!