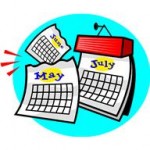 Are you tired of all the clichés yet? New year. New start. Blank slate.
Except that it isn't a blank slate anymore, is it? Your days have begun to fill up. The holidays are a given. New Year's Day, Valentine's Day, St. Patrick's Day, Easter, Mother's Day, Father's Day, all the way through Christmas.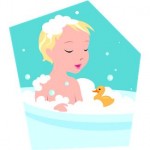 Of course, we know holidays are special. But these days, it seems like every day is a holiday. For example, January 8 was National Bubble Bath Day. Yup, that's right. And February 28 is Floral Design Day. March 6 is National Frozen Food Day. And Mother Goose Day is May 1. Uh-huh. Really.
Some of these "official" days are just plain silly. But it doesn't end there. As you might expect, Hallmark has entered the fray. Not just with Friendship Day (August 5), or Sweetest Day (October 16). The Hallmark pocket calendar (yes, I still use a paper datebook – that's a subject for another blog post.)  theme for 2012 is "Life is a special occasion." Their idea is that every day can be made into a special occasion by our attitudes and actions.
Here are some of the quotes included on the calendar's pages:
"Dedicate the weekend to 'wasting' time with the people you love. You will not cherish memories of clean laundry."
"Remember to have fun in this month of to-do lists."
"Today's a good day to catch a funny movie with a friend who gets the winter blues."
"Be ready to capture those unexpected moments by spending a few minutes today recharging your camera battery and emptying your memory card."
"Pack a basket with paper plates and PB&Js, then have a 'picnic' in the living room."
"This is a perfect day to treat yourself to that awesome feeling you get when you cheer someone else up."
"Getting mail is great, and everybody knows it (bills excluded). Send a card to someone who's not expecting it."
"That little spot where you keep extra gifts and cards? Raid it, then share with a friend at a random lunch or dinner."
I love these ideas for making special occasions of the days that haven't been officially dubbed "special." But of course, you know I can't leave this subject without quoting from another source. Here are some additional quotes to help us make every day special:
"Today, if only you would hear his voice, 'Do not harden your hearts…'" (Psalm 95:7-8).
"So that your trust may be in the LORD, I teach you today, even you" (Proverbs 22:19).
"The living, the living—they praise you, as I am doing today" (Isaiah 38:19).
"If that is how God clothes the grass of the field, which is here today and tomorrow is thrown into the fire, will he not much more clothe you, O you of little faith?" (Matthew 6:30).
"'In the time of my favor I heard you, and in the day of salvation I helped you.' I tell you, now is the time of God's favor, now is the day of salvation" (II Corinthians 6:2).
"But encourage one another daily, as long as it is called Today, so that none of you may be hardened by sin's deceitfulness" (Hebrews 3:13).
"Jesus Christ is the same yesterday and today and forever" (Hebrews 13:8).
Every day is special, not because the calendar says so, but because our awesome Creator made it so. He made us to enjoy the day, enjoy Him, and enjoy each other…and we do it through His Son, Jesus Christ.
How can you make each today of 2012 a special day for you?