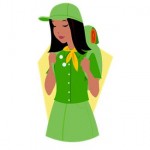 Is nothing sacred, anymore?
Why would any Christian want to say no to The Girl Scouts – an organization as American as apple pie?
And yet…that's just what some are saying today. For all the good this organization has done and is doing, should we ignore the following:
– An article in the Washington Times notes that a cross-dressing seven-year-old boy was admitted as a troop member because: "If a child identifies as a girl and the child's family presents her as a girl, Girl Scouts of Colorado welcomes her as a Girl Scout." Rachelle Trujillo, vice president of communications with Girl Scouts of Colorado, said that any child who is "living life as a girl" is eligible for membership in the organization.
– An article in LifeNews.com notes the Girl Scouts' recent convention celebrating their 100th anniversary by featuring pro-abortion speakers.
– A recent Girl Scouts guidebook recommended that scout members use the liberal organization, Media Matters for America, as a primary source for processing current events.
Are these events enough to besmirch an organization as venerable as The Girl Scouts?
Some say yes, some say no. What do you think?