Back to Normal … Or Not?
For years I used to long for the day when life would "get back to normal." But the older I grew, the more I realized that normal is an illusion. Normal is what we recall when we look back on simpler times, forgetting that even those days also had their share of problems.
And we're about to do it again.
The governor of my home state just announced the implementation of Phase 1 in the process of getting back to normal. Or at least, getting back to a semblance of what life was like before the phrase "COVID-19" entered our vocabulary.
But is that version of normal what we really want? Yes, we want businesses, schools, and churches to reopen. Yes, we want to be able to walk around without face masks and disposable gloves. And yes, we want to be with the people we miss.
But during the past month of stay-at-home restrictions, I've seen some unusual sights. Families walking their dogs together. Dads bicycling with their children. Couples out for an evening stroll.
Did people do these things before COVID-19? Sure. Did they do it to the extent it's happening now? Not even close.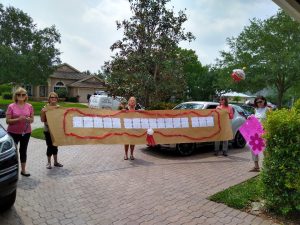 I've seen photos on social media of families playing games, children chalking sidewalks, and cooking contests to see which family member cooked the best-tasting meal. I've watched videos of drive-by birthday celebrations as communities circumvented social distancing with automotive parades and greetings (and I was the recipient of a similar activity this month, too!) And random acts of kindness have abounded as individuals reach out to those in need.
I've also heard how daily schedules are more relaxed, as parents spend quality time with their children. Families have rediscovered the art of conversation. They're reading books and completing puzzles, instead of parents chauffeuring children to multiple activities every day of the week, leaving the entire family exhausted.
But now we have time to think. To make phone calls and catch up with people we love, even if we can't see them for a short while. We have time to read our Bibles. To pray and then stay a few more minutes to listen to what God is saying to us through His Word and His Spirit.
Has there been a downside to these changes? Of course. We get on each other's nerves with those physically close to us. We worry about loved ones far from us, whether in their own homes or in nursing homes and hospitals. And COVID-19 is serious—people are dying, often alone due to restrictions to slow the spread of the disease.
We can't wait for this nightmare to be over. But before we race to embrace pre-COVID-19 normal, what if we examined each of those activities, one by one, to determine if they're really necessary? What if we eliminated a few nonessential commitments and slowed our pace just a bit? Maybe it's time to find a new normal.
Or maybe—just maybe—we should give up looking for a normal that isn't real. Maybe normal truly is just a setting on the dryer.