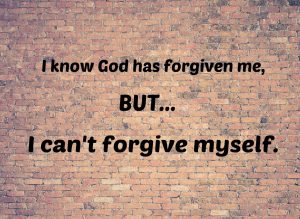 "I know God forgave me. I just can't forgive myself."
Perhaps you've said those words. Maybe you heard someone else say them. But is forgiving yourself a biblical concept?
Christians know faith in Christ as Savior and Lord provides freedom from the eternal penalty of sin at the end of our earthly life, as well as freedom from the power of sin now. We understand we are no longer slaves to sin, as Romans 6:17 tells us. We have the power to say no to temptation.
But that doesn't mean we always make right choices. While we don't have to give in to sin, there are times we do it anyway. If not in actions, then in words or thoughts. There's truth in the adage, "Old habits die hard."
When that happens, the Bible tells us to confess our sin, knowing God is faithful to forgive and cleanse us (I John 1:9). And because we have been much forgiven by God, we are to extend the same forgiveness to others. Jesus included this truth in the pattern of prayer He taught His disciples: "Forgive us our debts as we also have forgiven our debtors" (Matthew 6:12).
We ask forgiveness from God because our sin if first and foremost against Him. King David understood this when he wrote in Psalm 51:4, "Against You and You only have I sinned." When David committed adultery and then compounded it with murder, he wasn't saying he didn't offend or harm other people. He was saying the primary offense was against God, because sin is ultimately rebellion against God Himself.
So when we sin, whose forgiveness should we seek?
First, we turn from our wrongdoing and ask God's forgiveness. God promises this forgiveness for every Christian who trusts Jesus because of the substitutionary sacrifice of Christ for us. And, as we've already noted, God promises to forgive.
We also ask for the forgiveness of the person we have wronged (Matthew 5:23-24). Unfortunately, while the Bible calls us to forgive each other (Colossians 3:13), this doesn't always happen. A recent Barna study revealed that almost "one in four practicing Christians (23%) has a person in their life who "they just can't forgive." While we cannot force someone to forgive us, we can live in a way that shows them the authenticity of our request.
But what about forgiving ourselves? Where does the Bible say we are to forgive ourselves? It actually doesn't. And that's where Christians can take a wrong turn.
The issue is not whether we forgive ourselves. The issue is whether we truly believe God has forgiven us. Do we take Him at His Word? Because if we did, the matter would be settled. We become presumptuous when we think forgiving ourselves is also required.
So why do we struggle with accepting God's forgiveness? I can think of several reasons, including:
We simply don't believe God does what He said He will do. Do you really believe there's no condemnation for those in Christ (Romans 8:1)? We would never call God a liar, yet our supposed inability to forgive ourselves is actually unbelief—a failure to take God at His word.
We're stuck in a performance perspective – we think we have to earn God's forgiveness, much as we often expect others to earn our forgiveness. But by definition, God's grace is unearned and undeserved.
We beat up ourselves for failing. Somewhere along the line, we've established an expectation of perfection. And in the process, we refuse to accept God's offer of forgiveness because we've failed our own standard. But this isn't an issue of forgiving ourselves, it's about understanding the reality of our relationship to God in Christ. He knows we will fail, but He forgives us anyway (Psalm 103:11-14).
We've failed to train our thought life. The Bible tells us to "take our thoughts captive" (II Corinthians 10:5). Philippians 4:8 tells us to focus on thinking about things that are noble, right, pure, and lovely, but the first item in that verse is to think about things that are true. So if we don't feel forgiven, we're dwelling on an untruth. But to take control of our thoughts requires help—and there's no better Helper than the Holy Spirit (John 15:26).
Finally, by not acting as though God's forgiveness is enough, we're voluntarily placing ourselves back under the enemy's kingdom, even though the Bible tells us God rescued us from the domain of Satan and placed us in the kingdom of Christ (Colossians 1:13).
So the next time you're struggling to forgive yourself for something God has already forgiven, ask yourself why. You just might discover your forgiveness is irrelevant…and unbiblical.