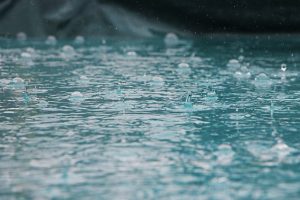 Hurricane Barry made landfall on the Louisiana coast in July as 2019's first hurricane. As Barry approached, fears about the Category 1 hurricane focused primarily on water damage from storm surge, an already high Mississippi river, and torrential rain.
And Hurricane Dorian is churning in the Atlantic, aiming for Florida's east coast as I type this.
Even those who haven't lived through a hurricane can still relate. Life has a way of hitting all of us with figurative storm surges, high rivers and hammering rains.
I'm familiar with the line, "Into each life some rain must fall," made famous by Ella Fitzgerald and The Inkspots in 1944. I'm equally familiar with another adage, "It never rains but it pours." A little rain is one thing. Torrential and unending downpours are quite another.
If you're not in a season where troubles or suffering seem to be multiplying, you've either just come out of such a season or you're about to go into one. It's part of life in a broken, sin-sick world.
So how are we to respond to life experiences that feel like a combination of storm surges, high rivers, and torrential rains? Experiences that seem to magnify our brokenness, inflame our fears, or expose our vulnerability?
We approach these experiences with hope. Not the fragile, undependable hope our world offers, but the solid biblical hope flowing from our identity in Christ as children of our heavenly Father.
Desmond Tutu once said, "Hope is being able to see that there is light despite all of the darkness."
What is your "despite"? We all have at least one. It could be a dream that seems continually out of reach. Or a prodigal child bent on their own way. It might be a medical diagnosis or a financial deficit. Or it could be a combination of several "despites." My own "despite" is this new chapter of my life as a widow.
Still, no matter how dark the darkness is, we can have hope. We can remind ourselves of God's past faithfulness. Of the hope we have for an eternity through Christ. And of the equipping we have from the indwelling Holy Spirit.
This hope fuels courage. Courage to persevere when we're tired. Strength to continue when we're weak. Encouragement when we're discouraged. Power to endure when we're drained.
The apostle Paul understood this when he wrote to the early church in Rome:
"Now may the God of hope fill you with all joy and peace in believing, so that you will abound in hope by the power of the Holy Spirit" (Romans 15:13 NASB).
The word abound means to overflow, flourish, or thrive. So when our rivers overflow and the storms of life flourish, so can hope in the child of God. Regardless of our situation, we could all use some abounding, overflowing, flourishing, and thriving hope, don't you agree?
Besides…we can't have rainbows without the rain.
What is your "despite"?
How is hope carrying you through it today?