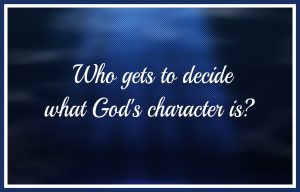 Just when I think our culture can't shock me any more than it has…
it does.
When you consider God's character – the character of the God of the Bible, which of these descriptions come closest to your belief?
God is the supreme creator of the universe.
He's one god among many gods.
God is a fable or myth believed by ignorant people.
I recently learned of yet another proposed view of God's character and nature. Two college courses in particular attempt to label God's character in a way that leaves me
concerned
alarmed
shocked
angry
sad
furious
and brokenhearted.
Swarthmore College is an institution of higher learning founded by the Quakers in 1864. U.S News & World Report ranked Swarthmore in a three-way tie as #3 of all national liberal arts colleges.
But this school seems to have departed from its origins. And in doing so, from a traditional biblical perspective it has entered dangerous spiritual territory.
Swarthmore now offers two courses that challenge traditional biblical Christianity in an extreme way.
The first class, named "Queering the Bible," "destabilizes long held assumptions about what the bible–and religion–says about gender and sexuality." That's not my opinion, that's the stated goal in the school course catalog. And they don't want to simply disagree with what the Bible says, they assert that they want to "destabilize" it.
The second class, called "Queering God," "seeks to stretch the limits of gendering-and sexing-the divine" as noted in their course catalog.
Destabilize what the Bible says? Stretch the limits of gendering and sexing God? Seriously?
I'm angry at how they treat the God of the universe. Still, I know He does not need me to defend Him. He knows the heart and will respond to every person in accordance with what He has said in His word.
I'm also brokenhearted for the students who attend these classes. Students who will be misled by those who claim to speak with authority. Students whose view of their Creator will be molded and confirmed at a young age and will shape their lives for decades to come.
I'm also confounded that those in our culture who persist in mocking, and work to "destabilize," Christianity rarely, if ever, attempt similar action against other world religions.
The fact that the world continues to target the God of the Bible and the Christians who believe in Him is quite telling. The logical conclusion is that people attack what they feel threatened by the most. They don't attack fables and myths with the vehemence many reserve for the God who they claim is a fable or myth.
But even as I write this, my anger is seeping away, replaced by deep sorrow. The consequences of their actions will far outweigh my own individual offense. God's character is revealed in His Word. Someday, they will stand before the One who created the universe. May they come to know Him as Savior before they have to face Him as Judge.