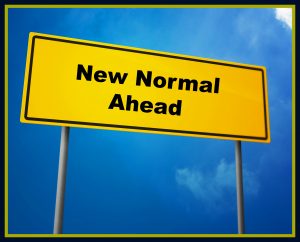 "I can't wait till things get back to normal."
Have you said those words recently?
Normal. The good old days. A slower pace. Less hectic. Fewer troubles. Happier times.
Not like it is today. Today has health problems. Doctor appointments. Conflicts. Struggles to find time—and energy—to accomplish the bare minimum on our to-do list.
I'm right there with you. The weekly class I teach ended last week. And in the past couple of days, several people made the same comment: "You must be enjoying your free time."
What free time?
Our schedule for just one day this week included:
9:00am        Doctor appointment
10:00            Car repair appointment
11:00            Invisible Fence repair (for controlling our two crazy dogs!)
12:00            Termite warranty inspection
1:00pm         Doctor appointment
6:45               Bible study class
I know I'm not alone. Your days may be similar. Not all your days, of course. But many of them.
Welcome to the new normal.
Our new normal began in January, with hubby's surgery. His cancer diagnosis was worrisome, but the doctors laid out a treatment plan that included chemotherapy and radiation.
I heard those words and in my impatient nature, started calculating dates. Six weeks of recovery from surgery. Eight weeks of chemo. Six weeks of radiation. Twelve weeks of additional chemo. That should bring us to August 11.
But I soon learned it doesn't work that way. A few weeks added between chemo and radiation. Then a few more weeks between radiation and chemo. And now the target end date is in October.
Maybe.
Did I mention my impatient nature? Willy Wonka & the Chocolate Factory aired on television again this week. Remember that movie? I can so relate to one of the characters, a little girl named Veruca Salt. Veruca's crowning moment in the movie arrives when she sings her solo, I Want It Now.
It's not her greed I relate to, it's her impatience. "I want it now." And when it comes to hubby's healing, I confess, my natural inclination is to want the cancer to end now.
But that's not how things work in our broken, sin-sick world. While hubby is being treated, I'm learning patience. (Sigh. You'd think I would have learned that lesson already. I thought I had, but, well…enough said.)
Still, it's not all bad. We're closer than we've ever been in 39 years of marriage. We're both trusting the Lord daily. Of course, I want his healing now, and we're hopeful, but we're also content to rest in God's sovereignty for whatever He will allow.
So this is our new normal. Taking one day at a time as we hurry up and wait. Really, isn't one day at a time the only way to live? After all, no one knows what tomorrow will bring, if we even have tomorrow. I don't mean that in a morbid way; just being realistic. And in that realism, I'm appreciating the preciousness of each new day. Relishing the moments. As a beloved friend who's undergoing her own health crisis recently wrote me:
"Appreciate all that is important in life…the love of God and the blessings of every breath you take…the moments that grab your heart and soul…every day a miracle."
New normal or not, every day really is a miracle. That's both enough and more than I have a right to ask for.
How about you? Are you waiting for something? Or are you caught up in the frenzy of troubled days? What is your new normal?