Trick or treating is supposed to be for children. Unfortunately, I see an adult version of trick or treat all too frequently on social media feeds.
The "treats" vary, but they're all tempting:
We're giving away 5,000 free iPhones because the company can't sell opened boxes
Free $100. gift cards from Starbucks to celebrate the company's anniversary
Win a camper RV just by sharing the post on your FB feed
No. Apple is not giving away iPhones. Starbucks is not distributing $100. gift cards. And you will never win an RV just by sharing a post.
Why do people fall for this stuff? Maybe it's because they want it to be true. Perhaps it's because they didn't have parents who taught them that "If it sounds too good to be true, it probably is." Maybe it's because, as many have actually posted, "It can't hurt to try!"
But it does hurt. It clogs people's newsfeeds with junk. Worse, those who believe the lies and click on the links become susceptible to scammers who collect personal information for later use. And that's the "trick"—a painful one that can have long-term consequences.
Still, there's one offer that may sound too good to be true, but really is true. That's the offer of salvation. It truly is free!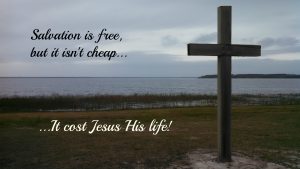 What's the catch?
No catch. Still, many struggle with the idea that they can't do anything to earn salvation. They want to be able to say they did it themselves. Problem is, the only thing we can do ourselves is to get farther away from God. And that's not just a "trick," it's a disaster.
But the solution has been laid out for us as clearly as possible:
"For by grace you have been saved through faith. And this is not your own doing; it is the gift of God, not a result of works, so that no one may boast" (Ephesians 2:8-9 ESV).
When it comes to our relationship with God, there's no need to play trick or treat. Receive the gift offered, no strings—or tricks—attached!