I'm weary. Worn out. Battle-fatigued by the relentless drumbeat of bad news.
Alt-right.
Alt-left.
Murder.
Racism.
ISIS.
I'm reminded of the 60s musical, Stop the World—I Want to Get Off. Problem is, it doesn't stop….and I can't get off.
The headlines keep coming.
The bad news keeps multiplying.
The solutions keep failing.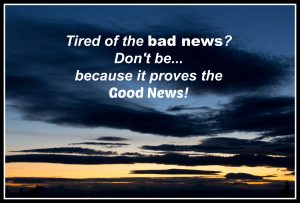 This may sound strange, but that's actually good news. The bad news proves the good news really is the Good News.
You see, our culture keeps trying to solve our problems by changing externals. Enact new laws. Post quotes and memes on social media. Hold vigils. Remove monuments.
As if these things will stop the hatred and the violence and the racism that flow from people's hearts and minds. One friend recently posted, "I basically believe people are good." It would be nice if she were right. But one look at our world spinning out of control proves her wrong.
All too often, people have developed their own solutions to stop the bad news. In fact, they'll consider anything except the one answer that has stood for 2,000 years. They'll consider every option other than the gospel of Jesus.
Did you know that "gospel" literally means "good news"? And here's the gospel in its simplest form:
"That Christ died for our sins according to the Scriptures, that He was buried, that He was raised on the third day according to the Scriptures" (I Corinthians 15:3-4).
Sin separates us from God.

Yes, I know that sounds like more bad news. But if we don't acknowledge the bad news, how will we recognize the good news? Besides, do we really need more proof that our hearts are not basically good?

There's only one way to pay for our sin and be restored to our Creator.

The world doesn't like the name Jesus. Sadly, His name is often used as a curse word. But the sacrifice of Jesus as a substitute for you and me is the only way God arranged for our sins to be paid for and forgiven. Jesus said it Himself, "I am the way, the truth, and the life. No one comes to the Father except through me." He's the only way because He is the only one who was both holy God and perfect man.

We must make it personal.

Still, it's not enough to acknowledge the problem of sin. Or that Jesus lived, died, and was resurrected. It's not enough to say:

Sure. I believe.

Of course, yes, I grew up in church.

That's good for you, if you need it.

It's not enough to believe…if by belief, you mean the same thing as believing that George Washington or Abraham Lincoln existed in history, too.

It's also not enough to grow up in church. Attending church doesn't make you a Christian any more than sitting in a garage makes you a car.

And it's not enough to encourage someone else to believe if they need it…because we all need it.

Trusting that what Jesus did, He did for you and me—personally—is the only way to be restored to the Father. The only way to change the ugliness in our heart for His righteousness. And ultimately, the only way for us to be restored to each other.
Tired of the evening news? Looking to stop the hatred? Weary of all the failed solutions? Receive the solution offered by God Himself. It's the only one that works.
The bad news really does prove the good news…and that's the best news of all.