Today is my cousin's birthday. When we were kids, I enjoyed boasting about how I was older than her…by eight days. Year after year I reminded her of this glorious truth.
Until one day, her mother reminded both of us my joy would be short-lived. There would come a time, she asserted with the assurance of one older and wiser, that I would wish I was younger…even if it was only by eight days.
My aunt was right. Now, when I look in the mirror, the seniority I once claimed mocks me. Gray hairs sprinkled among the brown. Tiny crows' feet frame my eyes. My first thought is, "Who is that woman in the mirror? Not me. I'm still twenty…inside.
My next thought is, "time for some touch ups." After all, it works for walls, doesn't it? We touched up the interior and exterior walls of our house last week. A dab of paint here, a light coat there, and voila! The signs or wear and tear disappear. Well, not really. Just covered up for a time.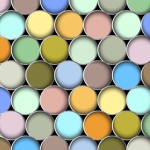 Which is why I have not started dying my hair. (Is that too much information? 🙂 ) Because I know the touch ups will be temporary. They will have to be done again and again.
Touch ups don't work in the spiritual realm, either.  No matter how much I tried to cover up my sins, they didn't disappear. The stain bleeds through, tainting everything in my life. But God knew that before I did. He didn't arrange for touch ups; He gave me the gift of a whole new life. Because of Christ, I'm a new creation—His new creation.
I'm reminded of the verse:
"Charm is deceptive, and beauty is fleeting;
but a woman who fears the Lord is to be praised"
(Proverbs 31:30 NIV).
My heart's cry is that my new life in Jesus Christ will encourage others to realize a touch up isn't enough – not in our physical life and not in our spiritual life.