When I worked in the corporate world, we rarely said we were firing an employee. We said they were being "let go." The euphemism didn't alter the reality that the person was no longer employed.
Euphemisms are often used to make us feel better about what we're saying. They take the sting out of painful terms. Euphemisms can also help us avoid facing the reality that we're making wrong choices. Slap a pleasant—or at the very least, neutral—label on something, and it becomes easier to support.
There's a quote floating around the Internet attributed to Chuck Norris that illustrates this:
"Instead of baby, we say fetus; instead of killing, we say aborting; instead of dissect, we say research; instead of extermination chambers, we say abortion clinics…"
Sigh. More euphemisms.
Which brings me to the recent news reports of Planned Parenthood's sales of body parts such as hearts, lungs, and livers from aborted babies. Upsetting, to say the least. Outrageous would be a better word. Our culture's callous disregard for human life seems to have spiraled out of control to an unimaginable extent.
It also has me shaking my head in confusion. For decades, supporters of abortion have refused to call the unborn child a baby. Women seeking help are told their fetus is not alive; it's merely a "clump of cells."
But "clumps of cells" don't have developed hearts, lungs, and livers. Living beings—people—have hearts, lungs, and livers. So which is it? Are these living human beings with identifiable human organs or are they unidentifiable clumps of cells?
No matter what euphemisms are used to help us hide from reality, the truth is our society has created and established a business whose goal is to kill children at alarming rates. Now it has found a way to generate even greater profits.
This despicable practice is an eerie reminder of a horrifying period in our not-so-distant history we'd rather forget. A time when body parts were also harvested with complete disregard for human life. Julius Hallervorden, a Nazi medical research official, once said to those managing the death camps, "If you are going to kill all these people, at least take the brains out so that the material could be utilized."
How quickly we've forgotten.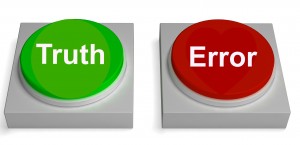 Euphemisms and short memories make it easier to avoid reality. But no matter how much our culture tries to avoid truth, it cannot change truth. And someday, Jesus Christ, the One who called Himself the Way, the Truth, and the Life, will bring a judgment that cannot be evaded.
Still, as Christians it is not for us to rejoice in their judgment. Rather, it is for us to speak of this judgment with aching hearts and tears in our eyes. To speak with the hope that those who practice these horrific deeds may come to know the Savior who died for their sin and ours.
Until that day, may we never grow comfortable with euphemisms that make it easy to tolerate the intolerable.
These are my thoughts. What are yours?