Come out and be separate.
No. Go out and be salty.
Connect or disconnect? Which is it?

As our culture distances itself from its Judeo-Christian roots, Christians are finding themselves more and more isolated by their values from the mainstream. Christian holidays are being secularized. Christian influence is devalued and frequently mocked.
The response of many believers is retreat. To protect themselves and their families from temptation and wrong influences, they respond by withdrawing and separating themselves. It's a reasonable and biblical response in light of II Corinthians 6:17, which tells us, "'Come out from them and be separate,' says the Lord."
But what about Jesus' teaching in the Sermon on the Mount in Matthew 5:13-16:
"You are the salt of the earth. But if the salt loses its saltiness, how can it be made salty again? It is no longer good for anything, except to be thrown out and trampled underfoot.
"You are the light of the world. A town built on a hill cannot be hidden. Neither do people light a lamp and put it under a bowl. Instead they put it on its stand, and it gives light to everyone in the house. In the same way, let your light shine before others, that they may see your good deeds and glorify your Father in heaven."
How do we reconcile these two positions?
Today we have Christian schools, Christian publishing, Christian entertainment. We have Christian alternatives to scouting, health insurance, and rock music. We have Christian versions of yoga, YouTube, and…the list goes on.
In some situations, a Christian alternative is necessary to protect children from undue influence before they're able to process what they're being taught. Even as adults, we need to stand against being drawn into situations that desensitize us to evil or destroy our witness for Christ.
But sometimes we simply need to be salt and light. Sometimes we just need to connect.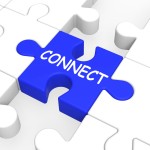 Which brings me to Christian alternatives to social media websites. With the ability to unsubscribe or block offensive contact, do we really need Godinterest and GodTube—Christian versions of Pinterest and YouTube? Shouldn't we be taking advantage of the broader secular platforms to engage our culture? We don't have to preach. We just have to be ourselves.
Besides, how far should we take being separate on social media? After all, is there really such a thing as Christian recipes? And who decides what's appropriate to post? Sad to say, even Christians disagree about modest clothing styles or appropriate behavior regarding alcohol or dancing.
There are times we are to engage our culture and times we are called to separate from our culture. Still, let's be careful not to isolate from our culture. Salt doesn't do much good unless it leaves the salt shaker.
What do you think?