Are you attending a wedding in the next few weeks? More weddings take place in June than any other month. Which means many of us will soon hear the traditional declaration, "Till death do you part." It reflects the understanding that marriage is a life-long covenant, not a contract. But covenants aren't popular these days, and contracts are.
According to an association of matrimonial attorneys based in Chicago, prenuptial contracts are on the rise…for those times when divorce comes before death.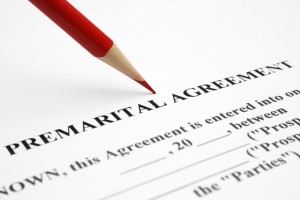 It might be because people are marrying at an older age these days. Or maybe it's because they have more property to protect. Perhaps they're concerned about their bank accounts. Or maybe they've witnessed one too many divorces among their family and friends. Whatever the reason, a recent survey revealed that 63% of matrimonial lawyers saw an increase in prenuptial agreements.
Some say prenups set expectations from the beginning of the marriage. Maybe I'm naïve, but shouldn't we be setting different expectations? Expectations that plan on staying married?
Marriage is a picture of the eternal relationship between God and His people (Hosea 2:19 and Ephesians 5:25). It's not about what we get out of the relationship, it's about what we give. God gave the ultimate gift: His Son. Yet we continue to assert our rights to hold back and protect what's mine at the expense of what's ours.
As someone once said, "A good marriage is not just about marrying the right person, it is also about being the right person." And Ruth Graham Bell has said, "A happy marriage is the union of two good forgivers." But instituting a prenup proclaims that one or both parties intend to stop being the right person and/or to stop forgiving.
That's not to say that lots of effort will always prevent divorce. The sad reality is that sin has left its mark on every one of us. Not one of us is the perfect mate. And regardless of how careful we are, people can lie their way into our lives and cheat their way out of our lives.
But what message does a prenuptial agreement send? A prenup declares at least one party has doubts about the marriage succeeding. It provides a safety net to get out of the marriage with minimal economic loss.
Many will argue that a prenup just makes good sense. Maybe it does. Or maybe it reduces the covenant of marriage to nothing more than a contract.
What do you think?