Food trucks, delivery trucks, pick-up trucks, DNA-testing trucks. DNA trucks? Yup, you read that right.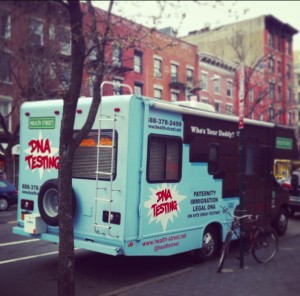 For the sake of accuracy, the Who's Your Daddy Truck is not actually a truck, it's an RV converted into a portable office and clinic. Rolling through the streets of New York City, targeting low-income neighborhoods, operator Jared Rosenthal describes his services as "very approachable, very accessible, and very available to the community." 
The truck is affiliated with Health Street, a testing company based in New York but which partners with clinics around the country and even with the U.S. Consulate.
For $350. and a cheek swab, you receive your DNA lab test results in a few days. The truck also provides drug testing and breathalyzer analysis. 
Rosenthal notes, "DNA really gets at a person's identity, it gets to the core of their identity, who your parents are, who your children are, how you define yourself ethnically and culturally." He adds, "Our clients are looking for answers – and the answers are not always what they expect."
No matter how flawed our fathers may be, we want to know.
Who's your daddy? The Urban Dictionary identifies this question as an insult, a taunt hurled at others to demonstrate authority, power, or domination.

But as Rosenthal observed, it also gets to the essence of who we are. Our heavenly Father knows this. He created us with an insatiable hunger to know Him.
Mathematician and physicist Blaise Pascal, said it this way in his book, Pensees:
"What else does this craving, and this helplessness, proclaim but that there was once in man a true happiness, of which all that now remains is the empty print and trace? This he tries in vain to fill with everything around him, seeking in things that are not there the help he cannot find in those that are, though none can help, since this infinite abyss can be filled only with an infinite and immutable object; in other words by God himself".
This quote has since been boiled down to the more familiar statement, "There is a God-shaped vacuum in the heart of every man."
We have a desperate need to know our heavenly Father. The security that comes from knowing the God of the Universe as "papa" or "daddy" gives us the confidence to face whatever life brings in our earthly families. And He offers that relationship through the sacrifice of His Son, Jesus Christ.
Your earthly father may be a compassionate man. He may be a selfish man. Or he may be somewhere between the two, as most human beings are.
Regardless of who your earthly father is – whether you know him or not, whether you like him or not – seek a relationship with your heavenly Father. He is the One who will give you the answers you crave, the identity you need, and the salvation that means the difference between life and death.