June is the month of brides and weddings. So it seems appropriate to choose this month to confess that one of my guilty pleasures is watching Say Yes to the Dress on the TLC network.
I enjoy watching brides select their wedding dresses, and try to predict which gown they will choose. Traditional or contemporary? Mermaid or ballgown? Classic or funky? Some of the styles are downright outrageous…some of the prices are, too!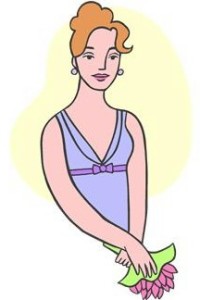 A spin-off of this program is Say Yes to the Dress: Bridesmaids. In these shows, the bride and her entourage select the dress or dresses for her attendants.
A recent episode of Say Yes to the Dress: Bridesmaids featured a bridesmaid at odds with the bride and the rest of the wedding party over dress style. Of course, style differences are common, but this situation involved religious convictions regarding modesty. 
The bridesmaid did not want to wear a low-cut, strapless dress because she felt it was immodest. Most of the time, I root for the bride's opinion to prevail. After all, it is her wedding and she probably has a definitive theme in mind.
It's normal for emotions to run high during wedding preparations. Even though it was 35 years ago, I still remember my own wedding planning! But what happens when religious convictions are at stake? After all, doesn't I Timothy 2:9 say women are to dress modestly? 
Of course, the problem could have been avoided with a little communication. Had the bridesmaid known in advance that this was the style the bride wanted, she could have chosen to bow out of the wedding party without all the drama.
After much pressure, the bridesmaid gave in after she determined her feelings did not amount to a true conviction since it didn't involve issues related to salvation. 
But I wonder…are convictions only limited to matters of salvation? Someone once defined a conviction as something we are willing to die for. Others say it is a firmly held belief or opinion. Either way, it's not something we're willing to compromise. On the other hand, a preference is something we merely like over other choices.
So is modesty a conviction or a preference?
What do you think the bridesmaid should have done?