A friend recently posted on Facebook:
"Not the happiest of days in my life.
God must have bigger plans for me."
I've had days like that.
When I didn't get the job.

When a relationship broke.

When the medication wasn't effective.
 At the end of days like these, I've comforted myself with the assurance that God has something better for me.
But what if He doesn't?
What if there isn't a better job waiting for me?

What if the relationship will never be repaired?

What if the illness is terminal?
 What if today is as good as this life will ever get?
I'm not talking about eternity. Christians have the assurance that eternal life will be way better than what we have now. But what about now?
I've often comforted myself with assurances such as God has something better for me, or God will restore that relationship or God will heal me. Still, God may choose not to do these things. Some Christians never receive the jobs they want, the restored relationships they seek, or the healing they're praying for.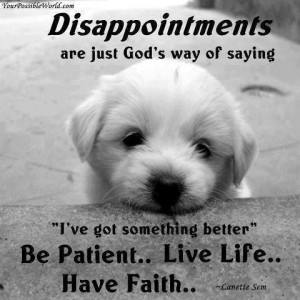 Maybe the problem lies in how we define better.
I admit it. I usually define better in terms of more money, physical healing, happy relationships, and anything else that makes life easier, pain-free, and pleasant.
But God defines better as being more like Christ.
"And we all, who with unveiled faces contemplate[a] the Lord's glory,
are being transformed into his image with ever-increasing glory,
which comes from the Lord, who is the Spirit" (II Corinthians 3:18).
"And we know that in all things God works
for the good of those who love him,
who have been called according to his purpose.
For those God foreknew he also predestined
to be conformed to the image of his Son" (Romans 8:28-29).
Being more like Christ includes being humble, having a servant's heart, and focusing on the eternal over the temporal. Problem is, those characteristics are almost always the result of problems…lots of problems.
When my definition of better doesn't line up with God's definition, I will be forever disappointed. Life will continually fall short of what I imagine it should be.
But when I define better as God defines it, then I see the value in trials, the good in disappointment, and the blessing in not getting what I thought I wanted. I'm not always there – some days it's easier than others for me to line up my perspective with God's perspective.
Of course, I never stop reminding myself that everything that happens in this life is preparing me for eternity, when life really will be as good as it gets.