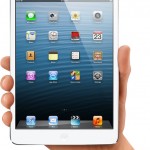 Apple unveiled the iPad mini this week. Microsoft will release the Surface tablet with Windows 8 this week, as well. All just in time for Christmas wish lists.
New and improved. New and not-so-improved. Fewer bugs, slimmer bodies, longer battery life. The next generation of must-have gadgets.
There's been a long line of next-generation gadgets we've been conditioned to believe are necessities. For example, the first iPhone launched a mere five years ago in 2007. Since then, we've seen six generations of the iPhone: the original, 3G, 3GS, 4, 4S, and now iPhone 5.

Tablets and e-readers are another example of new-and-improved gadgets. Amazon introduced the first Kindle to the public, also in 2007. Variations on this particular e-reader include Kindle, Kindle DX, Kindle Touch, and Kindle Fire.
I admit to being a bit of a technophobe. While I'm not the last to purchase new technology, I do drag my feet. On the negative side, I miss out (at the early stages) on the modern conveniences technology brings. On the plus side, I've avoided the regret that comes with purchasing an iPhone 3GS only to hear the debut of the iPhone 4 announced a week later. Or the purchase of a Kindle Touch just before the Kindle Fire was announced.
Still, the idea of new-and-improved appeals to me. Wouldn't it be nice to come out with a new-and-improved version of myself every year or so? Out with the old Ava and in with the new. Bugs fixed, longer battery life, and a slimmer body with every upgrade. (I sooo like that last part!)
But a new-and-improved me is not just a fantasy. Growth and progress are part of life…physical life and spiritual life. In his letter to Timothy, the apostle Paul said,
Set an example for the believers in speech, in conduct, in love, in faith and in purity. Until I come, devote yourself to the public reading of Scripture, to preaching and to teaching…. Be diligent in these matters; give yourself wholly to them, so that everyone may see your progress (I Timothy 4:12-15 NIV).
Progress. The kind others can see. What does it look like? Galatians 5:22-23 provides a good summary. "The fruit of the Spirit is love, joy, peace, patience, kindness, goodness, faithfulness, gentleness and self-control."
As Christians submit to the Lord, He works in observable ways. The process of conforming us to the image of Christ lasts a lifetime. Someday, however, His work in me will be completed. The bugs will be eliminated, my "battery" will last for eternity, and I will indeed have that slimmer body!
In the meantime, please excuse me while I go gadget shopping.  😉