I've won my first blog award from Alanna Klapp, of The Chipper Writer! Alanna was instrumental in helping me start my own blog by reconnecting me with Laura Christianson, the Blogging Barista.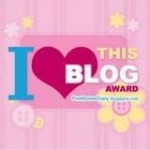 Here's how it works:
1. Thank and link back to the person who gave you the award.
2. Share seven things about yourself.
3. Award up to 15 blogs that are deserving. (I'm awarding five.)
4. Contact those bloggers and let them know about the award.
Seven random facts about me:
1.  I worked in downtown Manhattan for twenty years as a Human Resources executive – just blocks from the World Trade Center.
2. I never learned to ski – water or snow skiing.
3. My first solo book project was One Year Alone with God: 366 Devotions on the Names of God (Revell Books, 2010).
4. I love to bake. One Christmas, I baked and decorated twenty-two gingerbread houses!
5. I hate rollercoasters.
6. My favorite movie is White Christmas.
7.  I put up my Christmas decorations before Thanksgiving!
I award the "I Love this Blog" award to:
3.    Ramblings
4.    Redwood's Medical Edge

5.    Jolene's Journey
(Alanna, I would've awarded you, too, but you already have it!)