Another ruler has fallen.

Hosni Mubarek, President of Egypt, stepped down this week after almost thirty years of rule. He joins a long list of deposed dictators throughout history. Mass unrest in his country left him few options, despite his assurances that he would not leave until later this year.
The United States is interested in seeing Egypt institute some form of democracy. But how realistic is it to expect a transition to democracy in a nation that has never known such a government?
So who will govern Egypt? The military? Activists such as Wael Ghonim?  The Muslim Brotherhood?
We may have a long wait for the answers. Still, while the events in Egypt are a surprise to some of us, they are not a surprise to our omniscient Creator God. He controls history, brings nations and leaders onto the world stage in His perfect time, and then removes them when they have accomplished His purposes.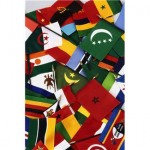 The Old Testament contains numerous predictions regarding the future of the nations. Isaiah recorded many prophecies in Isaiah 28-33 related to Israel's neighbors. Daniel recorded prophecies regarding the nations in Daniel 11. His descriptions were so specific and fulfilled in such detail that modern critics now cast doubt on the authorship of this chapter solely on the basis that it is too accurate!
The anti-government uprising that swept through Egypt has spilled beyond her borders. Iran, Bahrain, and Yemen have also experienced protests. Even in closely governed Libya, dissidents in Benghazi called for the removal of Moammar Gadhafi.
But if we belong to the Lord, we need not fear the rise and fall of rulers and nations. God is sovereign, His Son is seated on His throne, and His Holy Spirit is present in each of His children. There is much truth in the song, "He's Got the Whole World in His Hands." That includes us…and Egypt.