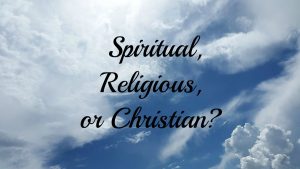 Is being spiritual the same as being religious? And are either of those the same as being a Christian?
A recent Barna Group study, revealed that despite a growing indifference among millennials, they have an openness to different forms of faith-sharing.
The Barna Group noted,
"For instance, non-Christians and lapsed Christians who say spirituality plays a significant role in their life, and / or that they have unanswered spiritual questions (more "spiritually curious" types), tend to be more open to a variety of settings to explore questions of faith. On the other hand, those who say otherwise (less "spiritually curious" types) are less open."
The phrase that caught my attention is, "non-Christians and lapsed Christians who say spirituality plays a significant role in their life…." This quote reminded me of the substantial difference between spiritual, religious, and Christian.
Many people identify as spiritual who want nothing to do with religion in general or Christianity in particular. Spirituality is related to an interest in humanity's inner condition—the non-material facet of our existence. But spirituality can also include interest in psychic or mystical activity.
Those who identify as religious may also identify as Christian. But these terms are not synonymous. Religion can refer to a belief in a variety of gods and is usually related to a particular method of worship.
These worship practices are often transactional in nature. For example, worshippers follow certain practices in return for expected blessing from the God or gods they worship.
Many Christians can fall into this trap, as well. It's why they become angry or bitter at God when bad things happen. They expect a quid pro quo for their good deeds, saying things such as, "I've gone to church every week and served in ministry. I give money to charity. So why did you allow this to happen to me, God?"
Biblical Christianity goes far beyond both spirituality and religion, even though all three terms are often used interchangeably. True Christianity is about an intimate relationship with the one, true, living God—the God who gave us the greatest gift: the gift of a restored relationship with Him through the sacrifice of His Son, Jesus Christ. This relationship is based on the new life the Holy Spirit brings, not on what we demand God to do for us in exchange for our worship. 
Timothy Keller once said, "Religious people find God useful. Christians find God beautiful." What an accurate description of the difference!
So how do you identify yourself: spiritual, religious, or Christian?
Do you find God useful…or beautiful?