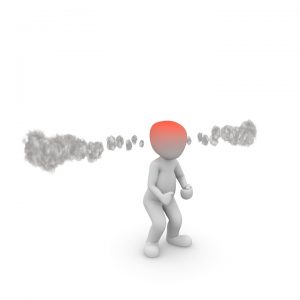 I've been inundated with outrage this past week. Righteous indignation filling my social media feeds. Outrage expressed in face-to-face conversations. And outrage at the outrage of others.
So what?
So what that Christians are outraged at the recent passage of a bill signed into law in New York State? A law that removes even the veneer of civilization when it comes to protecting the most vulnerable among us?
So what that Christians are outraged that a practice which ends life is now not only legal, it was celebrated with applause and landmark buildings lit up for the world to see?
And so what that the outrage of Christians is spilling into most of their conversations?
What are we doing about it?
Yes, Christians can feel like salmon swimming against the current in a society that no longer even pretends to share our values and morals.
Yes, Christians can become discouraged, citing the adage, "You can't fight city hall."
And yes, the political landscape seems skewed toward running away from God and His Word instead of to Him.
But we still have options:
When was the last time you made a difference—and not just expressing your outrage on social media?
Have you donated financially to a ministry such as Care Net Pregnancy Services of the Treasure Coast?
If money is tight, have you donated your time to such a ministry? There are opportunities for peer counselors and mommy-mentors. Training is provided.
Have you participated in a Walk for Life or hosted a table at a fundraising banquet to give other people an opportunity to donate through your efforts?
Have you come alongside other ministries? Will you explore opportunities with organizations such as:
If these organizations are not available in your area, find ministries with similar missions.
Have you considered how you might encourage foster families?
If you can't foster, how about adopting a foster family? Come alongside to support them in the call on their lives.
Or donate to a local foster closet to provide for needs of foster families.
Don't have an organization in your area similar to the ones I've referenced? Then perhaps this Bible verse can apply to you:
"For if you keep silent at this time, relief and deliverance will rise for the Jews from another place, but you and your father's house will perish. And who knows whether you have not come to the kingdom for such a time as this?" (Esther 4:14 ESV).
Yes, this verse is specific to an event and a person. But the principle still applies. We have been brought into the kingdom of Jesus Christ at this time, in this place. What will we do with the privilege of representing the Savior in the place He has planted us?
In the interest of transparency, I'm a board member of our local crisis pregnancy center, Care Net Pregnancy Services of the Treasure Coast.
But there was a time when I talked a good game of righteous indignation and moral outrage without doing anything. And one day I realized that had to change. I started small by attending a fundraising banquet. The next year, I hosted a table, inviting others to learn about this ministry. Further involvement culminated in my board role.
I say this, not for kudos, but to encourage you to start somewhere.
Start with outrage…but don't stop there.