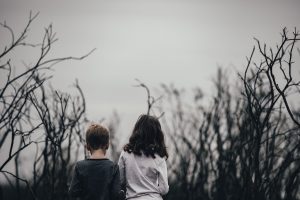 It seems children's entertainment is becoming darker. Movies and video games seem to be pushing children to embrace adult situations. And it's all in the name of being resourceful—of not needing adults (especially parents) to help them solve their problems.
On the other hand, maybe kids today don't really have a choice. After all, we've done a poor job of protecting them. Molestation and child trafficking abound. Laws supposedly meant to protect children have the opposite effect. For example, in the name of progress, California revised its sex education guidance for public school teachers, giving kindergarten children the burden of determining if they're identifying as the correct gender. Yes, in kindergarten!
The news this week makes the California policy look tame by comparison. A Dallas jury ruled a mother is free to transition her seven-year-old son into a girl via hormone treatments. The mother confirmed she is acting on her son's desires and choice.*
Yet, at the same time, even though the boy's first choice for his new name was Starfire (a cartoon character), his mother encouraged him to choose a different name. Did you catch that? He's supposedly capable of choosing his gender, but not capable of choosing his name.
Is it any wonder childhood depression and suicide rates are increasing at an alarming rate?
Or that children are being told they shouldn't be required to have parental involvement in their abortion decisions?
Children and teenagers are dressing like adults, behaving like adults, and sinning at adult levels. Alcohol and substance abuse, as well as promiscuity, are as much in the domain of children as their parents.
Culture's ruling philosophy is to cast off all restraint. The
Bible is no longer our plumb line. Standards of right and wrong spring from preferences
rather than biblical convictions. Everything else flows from this corrupt
foundation.
And so our culture is hastening children out of childhood in
the name of freedom from biblical morality. The result is that we are rushing
children into a distorted adulthood.
Oh, that we would return to the Father who created us. To His
Son, Jesus, who died for us. And to the Holy Spirit who brings conviction and
comfort.
Could it be the enemy of our souls is determined to damage our
children so we lose the example of faith Jesus told us to follow? "Unless
you change and become like little children, you will never enter the kingdom of
heaven" (Matthew 18:3 NIV).
If this breaks our hearts, how it must grieve the heart of
the One who longs for us to choose the redemption and reconciliation He offers.
The One who longs for us to come…as little children.
What are your thoughts?
*Addendum: The judge in the gender transition case ruled the parents will have joint conservatorship over their seven-year-old son, giving the father a say in joint medical decisions.