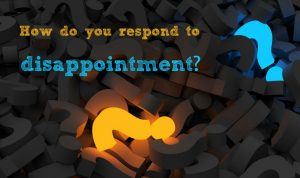 Have you ever been disappointed?
Silly question, isn't it? Because we've all been disappointed at one time or another. We live in a broken, sin-sick world. Disappointment is part of the package.
But it's not the only part.
I know. Because I'm living this out right now.
A year ago, my husband was diagnosed with cancer. Four months ago, we rejoiced at the news that the cancer was in remission.
Sadly, his status changed last month. The cancer is back. And so are the chemo sessions. Blood tests. Scans. Nausea. Fatigue.
And disappointment.
Is that where you are today? Maybe it's cancer or another diagnosis. Maybe it's a broken marriage. Or a prodigal child making destructive choices…again.
Disappointment.
But as songwriter Phil Keaggy wrote, disappointment is His appointment. God's appointment for growth. For spiritual intimacy with Him. For receiving comfort so we in turn can comfort others. And for living out our faith even in the most difficult times, because that's when others will see real faith in the one, real God.
This doesn't mean God is unloving or uncaring. It does mean He sees a bigger picture than we do. He has a plan for our ultimate good and His eternal glory. And His plan may include experiences that, with our limited perspective, we would not choose for ourselves.
We also have another set of choices. My natural inclination is to demand answers from God. If I'm honest, what I'm really doing is saying His ways don't meet my approval and He owes me an explanation. But God doesn't owe me—or anyone else—an explanation for what He allows.
The better choice is to rest in my relationship with Him. Trust instead of demand. Live out the reality of my faith with the assurance that He is trustworthy. And know that I know He  loves me and my husband with an everlasting love.
Christians understand this temporary life is not all there is. Something greater than today's suffering is at stake. The apostle Paul wrote in Romans 8:18, "I consider that our present sufferings are not worth comparing with the glory that will be revealed in us."
And a few verses later we read, "For I am convinced that neither death nor life, neither angels nor demons, neither the present nor the future, nor any powers, neither height nor depth, nor anything else in all creation, will be able to separate us from the love of God that is in Christ Jesus our Lord" (v. 38).
By the strength of the Holy Spirit, we can live without fear and worry. Listen as He reminds us of His Word. Receive comfort in His indwelling presence. And rest in the assurance that this life is not all there is. Regardless of the diagnosis—or any other problem life throws our way.
I am not alone in this. Neither is my husband. Because of Jesus Christ, we know who we belong to. And we trust Him.
You can, too.
We all have a choice. What will you choose?