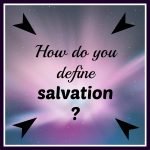 Ever feel as if God is trying to tell you something? I confess, I can be dense. But when I read or hear the same thing repeated in a short time, that's usually an alert that God is trying to get my attention. This time, the subject is salvation. What is salvation?
Someone recently posted a quote that started me thinking. The quote is from Oswald Chambers:
"Eternal life is not a gift from God, eternal life is the gift of God."
Later the same day, another person posted this quote from Max Lucado:
"God's present is his presence. His greatest gift is himself."
Those quotes started me wondering. If someone asked me to define salvation, how do I answer? Phrases I've frequently used include:
A gift we receive because of Jesus Christ's substitutionary sacrifice
Restored relationship with God
Forgiveness of sin
Deliverance from sin and death.
While those are all correct, did you notice what they have in common? They're all things or experiences.
But the quote from Oswald Chambers reminded me that salvation is not only something we get from God. Salvation is not just a what. It's a Who. It's God Himself. His very presence, as Max Lucado noted.
Those words can roll off my tongue without a second thought. But when I dwell on what they really mean, their impact shatters anything that might be mundane, commonplace, or business-as-usual.
I'm in the presence of the One who is not dependent on anything or anyone.
The Creator of the universe.
The One who is absolute perfection and holiness.
The One who died for me.
The eternal Trinity of Father, Son, and Holy Spirit.
Yes, salvation is indeed a gift through the substitutionary sacrifice of Jesus Christ. It is a restored relationship with God. It does provide forgiveness and deliverance. But all those things culminate in the very Presence of the living God.
When I truly consider what salvation is, how can I take it for granted? How can I take Him for granted?
How about you?