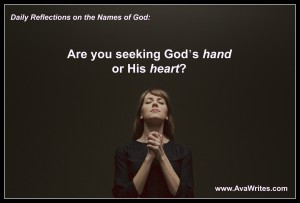 It's really difficult to pray without having expectations. Lots of expectations. I should know—we recently came through months of prayer for healing for my husband's cancer.
Those expectations create a disconnect when God's answer does not match our prayer.
Even when the answered prayer partially grants our request, we're often still not satisfied. It's human nature to focus, not on what we have, but on what we want.
From the first days of hubby's diagnosis, I threw myself into prayer. Looking for answers. Pleading for healing. Hoping for the best. Preparing for the worst.
However, in those early days, my perspective underwent a significant change. My request morphed into seeking God's heart instead of His hand. As His child, I knew nothing happens to us by chance. He is always at work for the ultimate good of His children and for His eternal glory.
But there's a significant difference between knowing something intellectually and living it out. It's much easier to quote biblical truth when it's someone else's problem.
So I prayed, not just for healing, but for God to use this experience in our life and marriage to help transform us into all the Lord intended for us to be. A light in a dark world. More like Christ. Less self-centered. More of an encouragement to others. Less self-pity.
No, it was not easy. Let me rephrase that. It is not easy. For this is an ongoing process, not a done deal.
We received our answer this week. And the answer was what we prayed for: cancer-free. As I shared the good news, hundreds of people rejoiced with us. God is so good!
Still, even if we did not receive the gift of healing from this cancer, God would still be good. He would still be at work, accomplishing His purposes for our good and His glory. And I'm glad we both reached that point before the answer came. Because spiritual growth is not about receiving from God's hand. It's about maintaining intimacy with our heavenly Father when His hand is hidden. When we seek His face and His heart instead.
Contentment is not easy. Even the apostle Paul had to learn it, as we read:
"I have learned to be content whatever the circumstances" (Philippians 4:11 NIV).
And the prophet Habakkuk showed us what contentment looks like when he wrote:
"Though the fig tree does not bud
and there are no grapes on the vines,
though the olive crop fails
and the fields produce no food,
though there are no sheep in the pen
and no cattle in the stalls,
yet I will rejoice in the Lord,
I will be joyful in God my Savior" (Habakkuk 3:17-18).
We can release our expectations and be content in whatever the Lord allows because, as a wise person once said:
"We don't know the future, but we belong to the One who is already there!
What troubling circumstance are you facing today?
What are you praying for—even pleading for?
If God reserves His hand, but reveals His heart, will that be enough?