Our family recently survived a brush with Matthew, a category 4 hurricane.
No, that's not quite right. Compared to some other locations, we did more than survive. We thrived. Yes, we cleared away debris, and several neighbors lost large trees. But all in all we were fortunate the damage wasn't devastating.
Many are saying it was the hand of God that saved us. That the Lord heard and answered our prayer because He is faithful and compassionate to His children. If so, this may raise more questions than answers.
What about Haiti? The Bahamas? What about St. Augustine and other locations on the eastern seaboard? Christians lived in those locations, too, and are now surrounded by destruction. They also prayed, asking God for His mercy. Was God as faithful to them as He was to us?
Why were we spared, while others were not? I don't know. This is where theology gets messy.
The Bible tells us God is good…all the time.
He is faithful…all the time.
He is compassionate…all the time.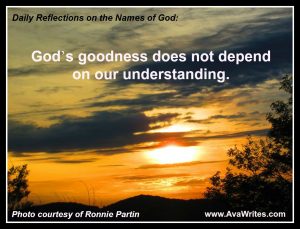 Theology is messy, but God is good. God does not change, regardless of our circumstances or the circumstances of anyone else. But God is also infinite—something our finite minds struggle to grasp and explain. There are some aspects of His nature we will never fathom (Isaiah 40:28).
For that, I am glad. If we could understand everything about God, He would not be God; He would merely be an exalted human being.
Can we understand some things about God? Absolutely. He reveals His nature and His ways in the Bible. We know, from His Word, that God is always at work for His ultimate glory and our ultimate good. And the day will come when all our questions will be answered.
But faith in God is more than just believing God is who He says He is. When we have faith, we act on that belief. God is love—how can we, as His children, show His love? God is compassionate—how can we be vessels of His compassion?
Needs always abound, and today those needs are especially severe in locations hit hardest by the hurricane. Essential supplies—items we take for granted—can be provided as an expression of God's compassion. Supporting the local churches in these areas is a tangible way to demonstrate the Father's love to His children.
Someday it will be our turn to receive God's compassion through others of His children. When that time comes, will we still say God is always good? Always compassionate? Always faithful?
I'm reminded of what the prophet Habakkuk wrote:
"Though the fig tree does not bud
and there are no grapes on the vines,
though the olive crop fails
and the fields produce no food,
though there are no sheep in the pen
and no cattle in the stalls,
yet I will rejoice in the LORD,
I will be joyful in God my Savior" (Hab. 3:17-18).
In light of recent events, would we be willing to say:
Though the hurricane did not stay away
and my roof has collapsed,
though there is no electricity
and our food has spoiled,
though trees are down
and the roads are flooded,
yet I will rejoice in the Lord,
I will be joyful in God my Savior.
Note the prophet did not say he will rejoice that the circumstances occurred. He said he will rejoice in the Lord. Circumstances are temporary and changeable. God is eternal and unchanging…and always the source of our joy.
Because of Jesus, Christians know they belong to the sovereign God of creation and salvation. With that assurance, we can be His hands and feet, our compassion and love reflecting our joy in the Lord.
We do this regardless of our circumstances…
…and sometimes, because of them.
(A portion of this post is adapted from Daily Reflections on the Names of God by Ava Pennington, Revell Books, page 134).