Every year, Oxford Dictionaries chooses a word of the year. A word that, in their estimation, exerted significant influence on our language. A word that attracted much interest or encapsulates a significant change in our culture.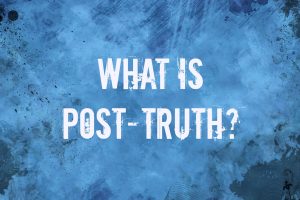 For 2016, the Oxford Dictionaries Word of the Year is post-truth, "an adjective defined as 'relating to or denoting circumstances in which objective facts are less influential in shaping public opinion than appeals to emotion and personal belief.'"
The folks at Oxford Dictionaries chose this word because of its growing impact on politics, both in the US and the UK. People are increasingly determined to make decisions based on perceptions rather than facts. Passion overrides knowledge. Feelings are more influential than information. Never in the history of our culture has the phrase "My mind's made up—don't confuse me with the facts" been more applicable.
This is noteworthy beyond the consequences to culture, politics, or language. It's troubling because when we dismiss truth, we dismiss not just a concept, but a Person. Jesus Christ said of Himself, "I am the way and the truth and the life. No one comes to the Father except through me" (John 14:6 NIV).
Post-truth. My mind's made up—don't confuse me with the facts. For eternal matters, a more accurate statement would be, "My mind's made up—don't confuse me with a Person."
When we ponder our relationship to the eternal, post-truth thinking is more than a new perspective. It's a dangerous enemy. All too often, we consider our eternal fate in light of what we wish it to be rather than what the Bible says it is.
We replace the biblical way to heaven with the path we want to be right.
We try to rid ourselves of guilt by doing what makes us comfortable instead of what God has ordained.
We attempt to please God based on the priority of what pleases us.
Jesus is Truth. When post-truth thinking encompasses eternal considerations, it's no longer just an opinion that might be wrong. It's a matter of life and death. Eternally.
How has post-truth thinking crept into your eternal perspective?