Have you ever walked with small children? Hand in hand, they keep up with you by taking two or three steps for each one of yours.
Experts say walking is the simplest and best way to get healthy and stay healthy. It's easy on the knees, does not require expensive equipment, and you can move at the speed that's right for you. But they also encourage us to walk with an exercise buddy. Walking alone can be discouraging. Walking with someone provides accountability and encouragement.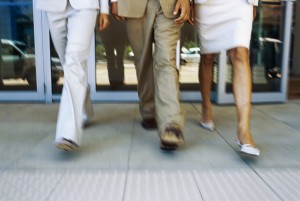 But walking isn't just about exercise. The Bible frequently uses the word walk to describe something else.
"Enoch walked faithfully with God; then he was no more, because God took him away" (Genesis 5:24).

"Observe the commands of the Lord your God, walking in obedience to him and revering him" (Deuteronomy 8:6).

"If your descendants watch how they live, and if they walk faithfully before me with all their heart and soul, you will never fail to have a successor on the throne of Israel" (I Kings 2:4).

"Blessed are those who have learned to acclaim you, who walk in the light of your presence, Lord" (Psalm 89:15).

"Whoever fears the Lord walks uprightly, but those who despise him are devious in their ways" (Proverbs 14:2).

"He has shown you, O mortal, what is good. And what does the Lord require of you? To act justly and to love mercy and to walk humbly with your God" (Micah 6:8).

"I have no greater joy than to hear that my children are walking in the truth" (3 John 1:4).

"So I say, walk by the Spirit, and you will not gratify the desires of the flesh" (Galatians 5:16).
Did you catch it? In the Bible, the word walk often describes a way of life. It describes both attitudes and actions.
When we walk with someone – in this case, God – we walk in the same direction and at the same pace. We are not walking with someone if our direction and pace is not the same as theirs.
What does this look like in daily life? The source of our values will be the Bible. Our actions will be consistent with Christ's example. We will seek God's leading instead of running ahead by pursuing our own agenda. We will not lag behind, even if God is asking us to do something that doesn't match our own plans. We will refuse to be distracted from His leading, despite the world's attractions. Those around us will see us living with integrity – we don't just "talk the talk" when it comes to our faith in Christ, we really do "walk the walk" with practical application in our thoughts, words, and deeds.
Walking is effective physical exercise.
Walking with someone is even better.
Walking with God? That's the best of all!
Who are you walking with?