Have you heard about the miniseries, The Bible, which has been airing on the History Channel for the past month or so?
The History Channel's website notes: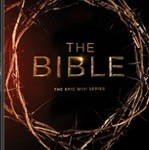 "The Bible comes to life in HISTORY's epic new series. From Genesis to Revelation, these unforgettable stories unfold through live action and cutting-edge computer-generated imagery, offering new insight into famous scenes and iconic characters. Created by producer Mark Burnett and featuring an international cast that includes Roma Downey, this 10-hour docudrama explores the sacred text's most significant episodes, including Noah's journey in the ark, the Exodus and the life of Jesus."
This network is part of a secular business providing television programs for profit. They have no objections to bringing a modern perspective by making a miniseries about the Bible more adventurous or "cool." The whole point is entertainment.
So I'm confused when I hear dismay, disappointment, and even shock expressed by Christians who are angry at the programs' biblical errors.
A few of the inaccuracies cited by those who are protesting this series include:
–       Noah tells his family that God caused the flood because Cain killed Abel
–       The angels who rescue Lot do so, but are injured as they barely escape
–       Abraham is shown arguing with God about sacrificing Isaac
–       David showing no remorse regarding Bathsheba
–       Daniel as a young man in the lion's den (rather than in his 80s)
–       Jesus is shown as pleading with Peter to have him follow Him
–       During the Last Supper, the actor playing Jesus neglects to say that the sacrifice of the body and blood is for the forgiveness of sins.
Protesters quote Bible verses such as:
Deuteronomy 4:2 – "You shall not add to the word which I command you, nor take anything from it"
Revelations 22:19 – "And if anyone takes away from the words of the book of this prophecy, God will take away his part from the tree of life and from the holy city, which are written in this book."
But this is a ten-hour miniseries, not a Bible study or a documentary, no matter how reverent the motives of those behind the project. Christians cannot expect non-Christians to handle the Bible with the same reverence we have for our holy God. Apart from the indwelling presence of the Holy Spirit, they simply don't have that ability.
So do we write off the program as sacrilegious? Or does it have some redeeming value?
What do you think?