I've heard it said that nothing in life is free. For the most part, that's true. But like many rules, this one has an exception or two.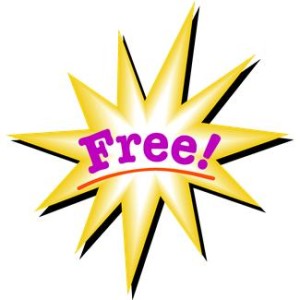 The air we breathe is free. The explosion of color in a glorious sunset is free. The melodious warble of a songbird is free.
But if you are of a more practical mindset, the following 2013 dates and free offers might appeal to you: 
June 7

– National Doughnut Day: free doughnut at Krispy Kreme.
June 8

– Pottery Barn Kids stores: National Geographic Little Explorers learning experience – children can learn about the ocean, sharks, and conduct experiments.

 
June 16

– Ikea is offering free breakfast for dads on Father's Day.
July 11

– Free Slurpee Day at 7-Eleven to celebrate their birthday.

 
July 12

– Chick-fil-A will celebrate Cow Appreciation Day by offering a free meal to customers who dress like a cow.
August 25

– free entrance at national parks
September 8

– Pottery Barn Kids stores will provide free supplies for kids to write a letter to their grandparents.
September 19

– Carvel will celebrate Customer Appreciation Day by offering a free soft-serve cone if you visit their stores from 3–8pm.
September 29

– National Coffee Day: Krispy Kreme will offer a free 12-ounce coffee
October 31

– Krispy Kreme will provide a free pumpkin-spice doughnut to any customer who comes in wearing a costume.
November 9 & 10

– Free entrance at national parks

 
November 11

– Free entrance at national parks; Krispy Kreme will offer veterans a free doughnut and small coffee; many restaurants will offer a free meal to veterans; Applebee's will provide a free meal to current and former military members.
November 22-24

– Holiday Taste of Sam's Club: members will have the opportunity to enjoy samples of fresh holiday foods, including appetizers, meats, desserts, coffee, and cocoas.
December 1-25

– Cheesecake Factory will provide a free slice of cheesecake for every $25. gift card purchase.
December 4

– Quiznos will offer a free cookie with any purchase.
Of course, you don't want to forget the most important freebie of all: a right relationship with the Creator of the Universe. It cost Him the life of His Son, so it doesn't come cheap, but He freely offers it to all who come. And it's not limited to a particular day!