The fireworks have already begun in my neighborhood. But I suspect the revelers are more interested in making lots of noise than in celebrating the upcoming anniversary of our nation's independence.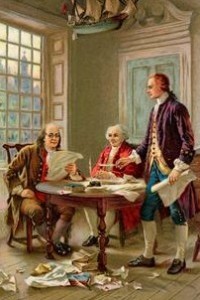 Independence. It's in our country's DNA. As American citizens, it's also in our individual DNA. We don't bow to anyone or anything. We're proud of our nation and we're proud of ourselves.
   Problem is, independence is the antithesis of the Christian life. We are created to be dependent on the Lord and on each other. Unfortunately, in our culture, dependent people are often viewed as weak and needy. We don't mind offering help, but we dislike asking for it.
   Oops, let me re-phrase that: I don't mind offering help, but I dislike asking for it. There, I admit it.
   But then I'm convicted by verses such as these:
 "For thus said the Lord God, the Holy One of Israel, 'In returning and rest you shall be saved; in quietness and in trust shall be your strength'" (Isaiah 30:15 ESV).

"I am the vine; you are the branches. Whoever abides in me and I in him, he it is that bears much fruit, for apart from me you can do nothing" (John 15:5 ESV).

"For as in one body we have many members, and the members do not all have the same function, so we, though many, are one body in Christ, and individually members one of another" (Romans 12:4-5 ESV).

"And let us not neglect our meeting together, as some people do, but encourage one another, especially now that the day of his return is drawing near" (Hebrews 10:25 NLT).

"As each has received a gift, use it to serve one another, as good stewards of God's varied grace" (I Peter 4:10 ESV).
We need the salvation God provides through Christ. We need the grace and power He provides through His Holy Spirit. And we need each other to be His hands and feet to encourage each other in difficult times and rejoice together in victorious times.
One more thing about dependence. It's not just for individuals. It's also for us as a nation:
If my people, who are called by my name, will humble themselves and pray and seek my face and turn from their wicked ways, then I will hear from heaven, and I will forgive their sin and will heal their land" (II Chronicles 7:14).
What about you? Are you more comfortable giving or receiving help?