Three of my friends lost their mother this past weekend. Three times in two days, I received a message saying John or Pat or Sonia's mother died.
These three losses remind me that death cuts through all the things we think are important, and bares what is truly important. It also causes us to examine what we claim to believe.
This is not our home.
And yet…it's the only home we know.
I Corinthians 15:55 (NIV) tells us, Where O death, is your victory? Where, O death, is your sting?"
And yet…it does sting when we lose someone we love, doesn't it?
The Puritan, Thomas Watson, once said, "What a wicked man fears, a godly man hopes for."
And yet…if we admit it, few of us actually hope for death.
 So where does this leave us?
The Bible tells us there are two ways to grieve: with hope or without hope. "Brothers, we do not want you to be ignorant about those who fall asleep, or to grieve like the rest of men, who have no hope" (I Thessalonians 4:13).
This world is nothing more than a glorified bus station on our way to our true destination. But that destination depends on whether we have the assurance of a relationship with God in Christ. For those who die without a restored relationship with God, we grieve without hope that we will see them again.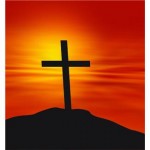 That's not politically correct according to a culture that says there are many paths to God. Yet, Christ said, "I am the way…," not, "I am a way…" (John 14:6). Either He was a liar or He is, indeed the only way.
But if our loved one had a restored relationship with God in Christ, then we grieve with hope. We have the assurance that nothing – not even death – can come between us and the One who loves us – and them. Romans 8:38-39 says, "For I am convinced that neither death nor life, neither angels nor demons, neither the present nor the future, nor any powers, neither height nor depth, nor anything else in all creation, will be able to separate us from the love of God that is in Christ Jesus our Lord."
Jesus said, "I am the resurrection and the life; he who believes in Me will live even if he dies" (John 11:25). This is more than just a statement. It's a promise.
Our grief is natural, but not without hope. We may grieve, but we grieve our loss, not theirs. We grieve our pain, not theirs. We grieve our loneliness, not theirs.
Thomas Watson also said, "The world is but a great inn, where we are to stay a night or two, and be gone; what madness is it to set our heart upon our inn, as to forget our home." Today we might say, "what madness is it to set our heart upon our motel, as to forget our home."
May we enjoy the motel, but remember our destination. Through our tears, let's take comfort in knowing that loved ones who died in Christ have already safely arrived.
How have you experienced God's comfort in the loss of a loved one?