A few weeks ago, I posted the following on my Facebook page:
"Is God calling you to serve Him? What is your answer?"
It's a relatively straightforward question. Yes or no. And yet it's often not so simple.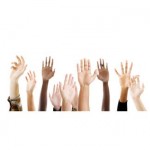 God calls us to serve in our churches, neighborhoods, and Bible studies, and we come up with all kinds of reasons why we can't….
I don't have time.
We all have the same 24-hour day and 7-day week. Is it possible we're filling our days with good things, but not the best things? With activities that someone else can – and should – do instead?
             My family comes first.
Absolutely! Then again, are we just telling our children about sacrifice and service and selflessness, or are we modeling it for them?
             I'm not qualified.
"God often qualifies the called, rather than calling the qualified." Although this has almost become a cliché, it's as true today as it was when Moses objected to God's call because he felt unqualified.
             This is way out of my comfort zone.
Good. That means we'll rely on the Lord rather than our own strength.
            It's not a good time.
Is there ever a good time? If we wait for the ideal, convenient time to serve, it will never happen! (I've been waiting for things to get back to "normal" for decades!)
             There are too many obstacles.
"Nothing is impossible with God" (Luke 1:37). Do we believe this? Why not ask God to show Himself powerfully on our behalf and see what happens?
             I don't think it's a good idea.
Have we prayed about it? Really prayed about it? And then listened for the answer? Really listened?
Henry Varley, a friend of D.L. Moody, once said, "The world has yet to see what God can do with and for and through and in a man who is fully and wholly consecrated to Him." Moody responded with a committed life fully sold out to God.
Will you and I do the same?
How has God provided when you've stepped out in faith to serve Him?